What to Know About Choosing a Built-In Grill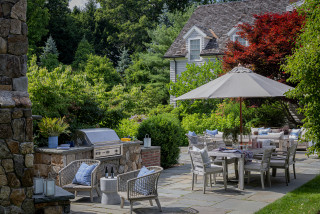 Charcoal Grills
Pros. Charcoal grills are the source of that familiar smoky "barbecue" flavor. They are also extremely versatile: You can sear over high heat, cook over direct heat or simmer, slow cook or rotisserie over indirect heat. You can even bake in a charcoal grill. They are generally less expensive than gas grills and come in a wider range of sizes.
Charcoal for the grill can be either lump charcoal or charcoal briquettes. Lump charcoal, though somewhat more expensive, has become a preferred choice because it is a natural wood fuel that has no additives or fillers. It is also a good starter, along with a charcoal chimney or an electric lighter, to start your barbecue. Charcoal briquettes include additives and are messier to clean up.
Cons. Charcoal grills do have some downsides. You will need to master the basics of starting the charcoal, and they take a longer time to heat up and also cool down. Cleaning charcoal grills also takes longer. There is usually a learning curve for how best to use indirect heat, smoke or rotisserie.
Charcoal grills have an open flame, which means they may be banned in some locations. You will need to place them away from any structures, including railings, overheads and decks, that might catch on fire if there are flares or sparks, which can limit where you put your charcoal grill. If your prime grilling spot is a deck, consider adding a fireproof mat beneath the grill to catch any burning ashes, embers or coals.