What does Creating "a single version of the truth" even Mean for Sales?
Translating data into actionable insights can be a nightmare for most sales teams.
Whether it's insights from Google Analytics or figures and stats from your own CRM, data is everywhere. And with so much of it coming from different sources, the crucial question is: which source should you trust?
Here's where a SVOT (Single Version of the Truth) comes in handy.
By defining certain data as 'correct', it'll be much easier to align your goals and objectives while keeping everyone in your team working on the same page.
Now, I admit this whole SVOT concept might be confusing at first and that's why we created this guide.
We'll show you exactly what a single version of the truth is, how it can improve your sales performance, and some of the best practices related to this concept.
What is a single version of truth (SVOT)?
In short, the expression "single version of the truth" represents the dataset that will be used throughout the company to measure performance and define future objectives.
Instead of relying on multiple data sources for decision-making, a SVOT helps you define the metrics that´ll mean success for you.
Let's say you're a SaaS trying to optimize your efforts for lead acquisition. In that case, different tools might register different data as "leads."
For instance, an online form completion might register as a lead in Google Analytics, but downloading an ebook from your website might also register as a lead on your CRM. So how do you know which data you should be using to measure success and progress?
Well, a single version of the truth identifies one of these metrics as the 'correct' data. By doing this, the entire company will use the same data to measure success.
Single version of truth vs single source of truth
People tend to equate the concept "single version of truth" with "single source of truth." While both concepts are pretty related, they're slightly different.
So, before we get into the "nitty gritty" of this guide, let's quickly talk about the differences between these two concepts.
The difference lies in the intent.
A SSOT is a data storage principle designed to keep data organized, avoid duplicate or denormalized data elements, and increase data accuracy. This principle, related to data center infrastructure, states that information should always be sourced from just one place.
On the other hand, a SVOT is intended to provide clarity to decision makers. It's a verbalized agreement on the data you'll trust and rely on.
Instead of depending on a variety of tools, you and your team will discuss what success means for you and define the data that better represents it.
As Bren Dykes states, "If a single source is focused on integrating and synchronizing data, a single version is about consolidating and aligning the reporting and analytics."
How to improve sales performance with a SVOT
In today's world, most business departments deal with an increasing volume of data, and sales isn't the exception.
According to Capterra, there are over 5,000 sales tools available in the marketplace.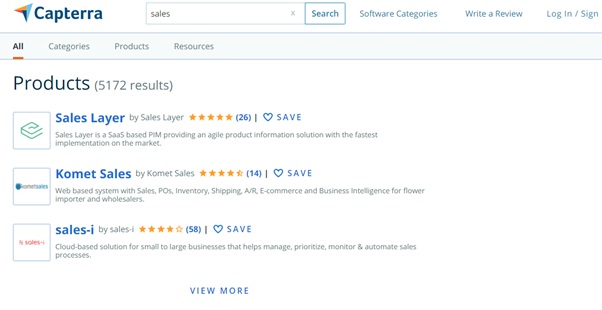 Even if your team uses just a handful of them, it'll be hard to choose which numbers to focus on. To solve this problem, you must design a SVOT.
By centralizing your information and deciding which data you'll trust, you'll improve decision-making.
So let's cover some of the best practices and benefits of an effective SVOT.
1. Increase organization-wide transparency
By removing silos between departments and making the right data more transparent to your sales team, you'll maximize your sales efforts.
Let's take this article on PEO companies as an example.
To see the best PEO companies in your area, you're asked to enter your zip code.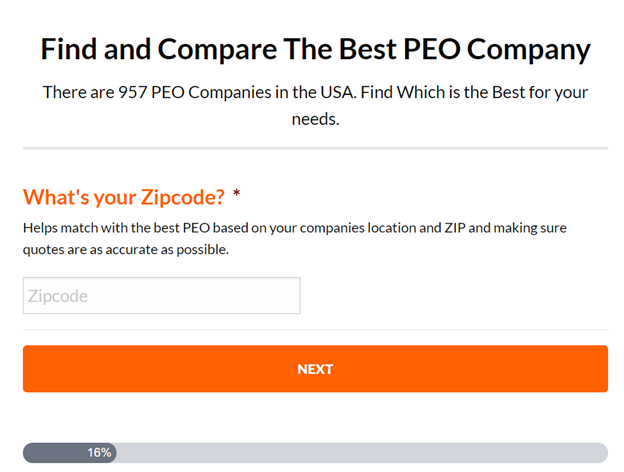 Imagine they're trying to launch a partner program where small businesses can get access to PEO companies at a discounted price.
With a SVOT in place, the sales reps in charge of promoting this program could access zip code data to identify the cities and areas that use their service the most and focus on businesses within those zones.
This way, their efforts would be more effective.
2. Improve customer experiences
According to Statista, 61% of decision makers in the US correlate fast customer service with an increase in revenue, which is a clear sign of the relevance of customer experiences in the sales process.
All the teams that manage customer data should work together to offer the best experience possible for their buyers. This will also improve their revenue operations strategy.
For instance, knowing whether a specific client has contacted customer support in the past, and being able to read the conversation before a sales call, can be helpful for a sales rep.
Or clearly stating what a "lead" means in your organization will help your marketing team send you more qualified prospects. This is why you need to have a sales tracking process in place to make sure all your leads are in the pipeline.
If you pay attention to Orizaba —a Mexican-style clothing store—you'll notice how they use every channel to improve the overall experience.
You can't only buy their products from their online store, but also from their Facebook page.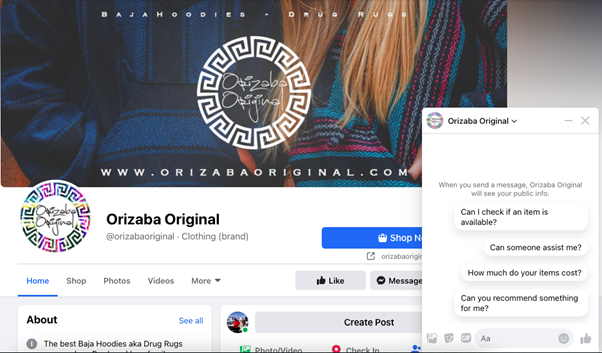 By consolidating all of this data into a single source of truth, they can increase consistency across all channels and build better relationships with their customers.
By applying this principle, each interaction will be aligned with the company's goals and objectives. As a result, you'll provide customers with consistent and concise messaging, and an all-around better experience.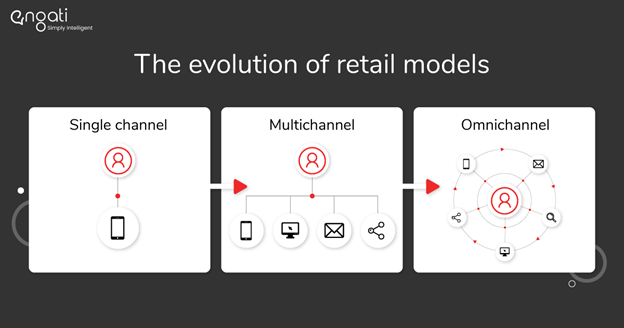 3. Create consistency with branding
Lack of trust is the killer of sales.
If your prospects don't trust your company, no matter how good of a salesperson you are, you won't get very far.
That said, branding consistency is one of the best strategies to build trust and goodwill.
If your messaging is well-aligned with the values and beliefs of your customers, they'll feel more connected to your brand.
An example would be Quetext and how they explain on their homepage the benefits of their plagiarism checker for the different users of their tools. By explaining the benefits for each, they are connecting on another level with these users.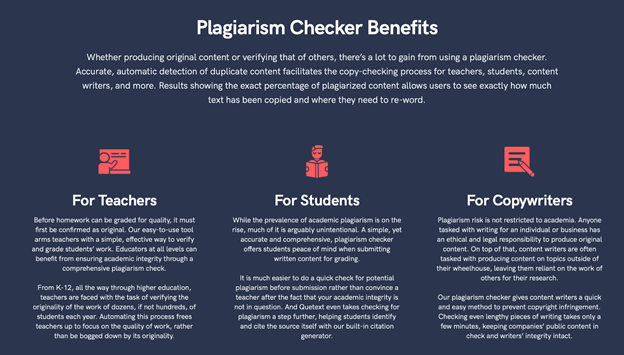 Without a SVOT, achieving consistency becomes utopic, though.
If different departments are seeing and interpreting different data, their priorities will differ, and thus, your branding might seem dispersed.
You see, this is crucial.
Your branding should communicate a message that resonates with your audience. If your data is dispersed, you can't find the right insights to base your brand on.
For instance, let's say you want to increase brand awareness and decide to create a corporate video for your company.
If you don't have access to data from customer support, it'll be hard for you to discover the most frequent questions your customers are asking. A great idea to gather data from your customers is to implement a chatbot like MannequinMall is doing.
You can have a direct conversation with potential buyers, provide information about your products but they also invite them to book a demo, which helps to convert visitors into buyers.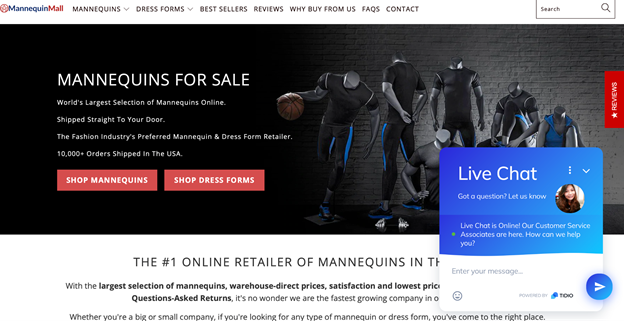 Analyzing what your customers are asking through a chat plugin can help you discover their most frequent questions and can help your sales and marketing teams to provide better insights.
Now, this might seem a rather simple example, but it emphasizes the importance of a SVOT even in the smallest of your activities.
4. Identify key activities
The current problem with most sales teams isn't the lack of a defined sales process, but a deficiency in focus.
Most sales teams don't understand causality and correlation—they don't know which activities drive the most results.
They don't know whether the customer support team is doing all the heavy lifting nor which outreach and marketing emails are driving the most qualified prospects.
A SVOT can solve this problem by telling you exactly where you're spending your time and the correlation between those activities and your actual results.
Quoting William Oleksiienko, from Reply.io:
"If you want to build a strong SDR process, you can't just set it and forget it. To get results, you must keep an eye on how your SDRs are performing and then make any necessary changes […] SDR performance is determined by how many meetings they're able to book. It would also make sense to check other metrics, such as positive reply rate and pipeline generated, to measure the quality of their outreach." It is also highly recommended to utilize meeting notes to ensure their results are accurate and efficient.
Now, just knowing your key activities isn't enough. To get results, you should communicate such activities to your entire team.
So, once you figure out your most productive activities, you should streamline the process and design a roadmap that showcases these activities in a logical order. A good way to do this is to install a Gantt chart for all your teams.
This way, everyone will understand what they should focus on. Additionally, roadmaps will clarify your value proposition and will support your sales reps during presentations.
In the end, a SVOT isn't a luxury, but a necessity, especially in sales.
5. Leverage the power of software
Implementing a SVOT in your organization might seem intimidating, but with the right process, it's relatively simple.
The first step is to verbalize an agreement with your team and define which data will represent success for you.
With this agreement in mind, now you should integrate and consolidate all of your data into one source of truth.
By doing so, you'll reduce the amount of time spent flicking between different platforms. Also, you'll make it easier to see the data that's most important.  
Now, it's worth mentioning that a SVOT shouldn't only integrate marketing and sales, but also accounting, finance, HR, and every one of your departments.
This process might seem difficult at first and, if you do it manually, it can be a true nightmare. Fortunately, many platforms out there offer integrations to speed up this process.
For instance, take a look at Frevvo's homepage. If you scroll down a bit, you'll find a section about their integrations:

Even though Frevvo is a workflow automation software, you can integrate most of your tools and still centralize your information into one place using their low-code workflow automation tools.
You'll be glad to hear that most platforms offer this type of integration.
Key takeaways
So there you have it.
Now that you understand what a single version of the truth is and the benefits of implementing this concept, let's talk about some of the key takeaways of this guide:
Don't just look at your CRM data and reports to craft your next sales strategy: create a SVOT by combining your sales pipeline, telephony, marketing campaigns, support tickets, and after-sales services data to improve your customer experience throughout the entire journey.
Identify key activities by analyzing data from other departments: use the data you've got from your SVOT to find the correlation between results and activities to justify the actions you're including in your sales processes.
SVOTs increase trust through consistency: by standardizing your processes and messaging throughout all of your channels, your customers will trust you more and, therefore, your sales will increase.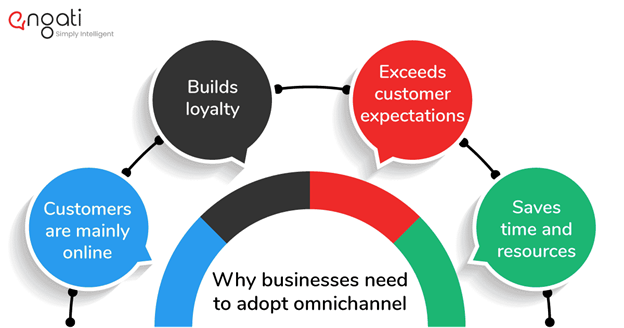 Finally, remember that choosing the right field management software to consolidate your data is a vital step. If you're looking for a business intelligence tool to connect all your data sources, blend that data, and visualize your KPIs in real-time, then MozartData may be a good fit.