The Secret to Grow Your Business
In today's digital world where over 50% of the world's population (Hootsuite) is on social media, leveraging social media for e-commerce marketing is a great idea if you want to grow your business.
Consider this:
According to a 2021 Sprout Social's the State of Social Media Investment survey, 34% of online consumers say they use social media to learn about products, services, and brands.
In the same survey, 33% said they use social media to discover new products, services, and brands.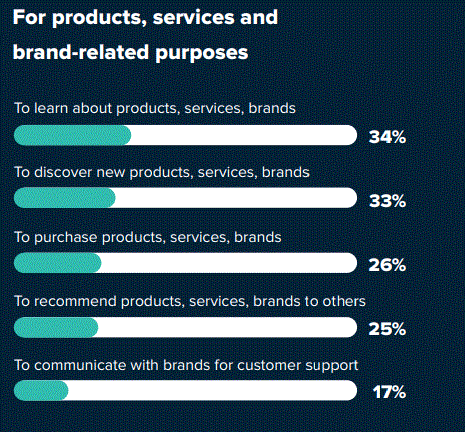 Besides, according to Hootsuite's Global State of Digital 2022 report mentioned above, users spend 2 hours and 27 minutes on average daily on social media: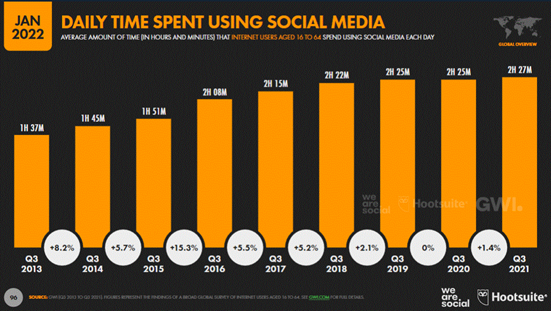 What's more?
In 2022, global sales via social media were estimated at $992 billion. Besides, social commerce sales are forecasted to reach approximately $2.9 trillion by 2026.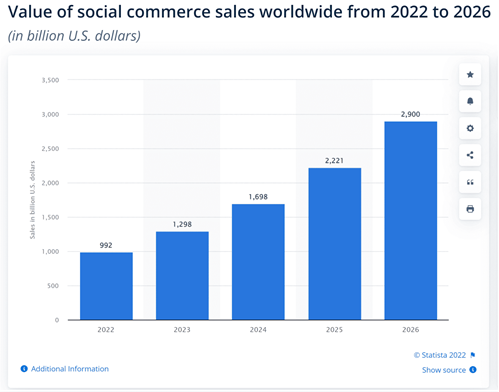 Seeing all these statistics, it's clear that using social media for e-commerce is a great idea for promoting your business online.
Still not convinced?
Here are 4 reasons why you should use social media for e-commerce.
1. Helps You Drive Website Traffic
Using social commerce is a great idea if you want to drive traffic to your website.
As mentioned in the statistics above, consumers are using social media to learn about brands and discover new products and services.
E-commerce brands can leverage this huge social audience to drive more traffic to their websites.
The good news is that social media for e-commerce is affordable. You can even drive traffic to your e-commerce website for free.
Here are handy social media tactics to drive traffic to your e-commerce website:
Research your e-commerce target audience.
Choose the right social media platforms that are relevant to your e-commerce business.
Post user-generated content.
Post valuable content consistently at the right time.
Collaborate with influencers.
Target your e-commerce audience with social media ads and PPC ads.
Utilize your social media and e-commerce data.
Follow the 80/20 rule.
2. Helps Create Brand Awareness
Social media is one of the most powerful channels for generating buzz around your brand, products, and services while managing business expenses, effectively track finances, and curtailing them thanks to a large number of users it commands.
Right social media strategy help you to increase the brand value and traffic on your ecommerce website.
According to a 2022 State of Inbound Marketing Trends report by HubSpot, 39% of marketers say their primary goal in using social media is to increase brand awareness:

By creating a robust social media marketing strategy, you can boost the visibility of your e-commerce business, thereby increasing brand recognition.
Here are practical tips to build brand awareness for your e-commerce store using social media:
Ensure you're using social media networks that your target customers are using.
Create an advertising budget and stick to it to handle business finance better.
Demonstrate your brand's personality and values.
Deliver valuable content consistently and engage with your audiences.
Take advantage of trends and breaking news.
Always track and measure progress.
3. Improves Conversions
The US retail social commerce sales are projected to reach $79.64 billion by 2025: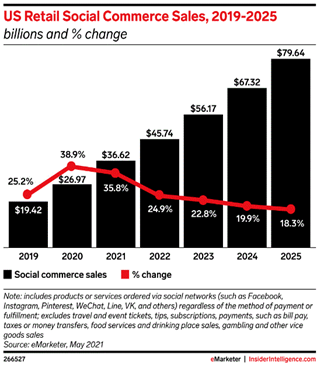 There's no doubt that social media marketing can help e-commerce brands improve their conversion rates.
Thus, creating a powerful social media strategy can help you improve conversions for your e-commerce business. In fact, with features like smart links, you can easily drive B2B sales on platforms like LinkedIn too.
To help boost their conversions, Walmart partnered with a US singer Jason Derulo in a live shopping event for which the singer shared a link on Twitter.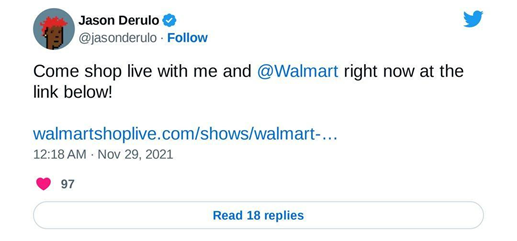 Here is how to use social media to boost e-commerce conversions:
Share user-generated content to empower your customers.
Improve conversions with influencer marketing.
Use trending and relevant hashtags.
Drive authentic engagement.
Build deeper trust and loyalty with your audience.
Make it easier for customers to shop for products directly on social media.
Leverage social media analytics.
4. Provide Customer Service
Take a look at how lululemon responded to a subscriber's question on Twitter.
The e-commerce brand provided the subscriber with a means to reach out to customer support. And they did so quickly too.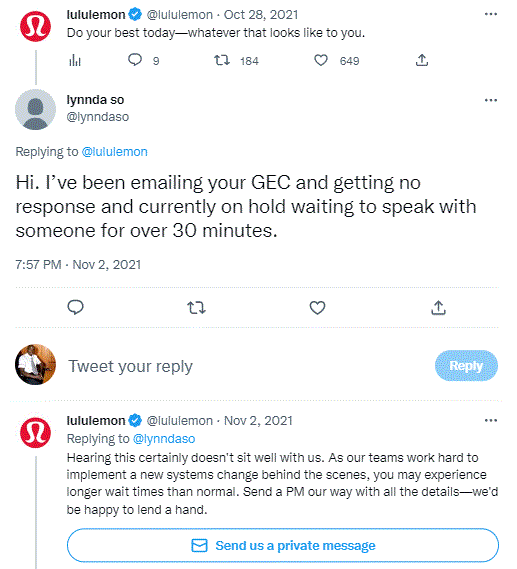 These days, the most popular social media platforms allow customers to purchase products directly without leaving the platform. These platforms work as the most digital marketing tools for the marketers and business owners.
This makes social media an important platform for customer service for your e-commerce business.
Here are useful tips to use social media for e-commerce customer support:
Reply to all questions, comments, concerns, and feedback.
Know what to address in public or private.
Address crucial matters as soon as possible.
Respond positively to both negative and positive feedback.
Conclusion
There are many incredible benefits of using social media for e-commerce marketing.
So, if you're not using social media to promote your brand, products, and services online then you're missing out on a lot of huge business opportunities. In fact, you're giving your competition the edge.
The key lies in leveraging the right social media marketing strategies and promoting your e-commerce store using them. The right combination can give your brand a lift. So, go ahead and start leveraging these strategies.