How to Take a Stress-Free Vacation When You Run an Online Store
As an ecommerce business owner, it can be difficult to take a vacation, especially when you're the one and only employee. But this doesn't have to be the case. With careful planning and preparation, you can take a vacation without feeling stressed out. 
In this article, we will look at some steps you can take to ensure that your online store runs smoothly while you're away. We will also discuss how you can automate certain tasks so you don't have to worry about them while on vacation.
You'll learn the ins and outs of the following:
Manage your online store easily
Save hours of work with Lightspeed eCom. Run your business from a single platform with centralized inventory, order management and pricing.
Notify customers about your time off
The first step is to let your customers know that you will be away. This is important, so they are aware of any delays in shipping or customer service inquiries. You can do this by sending out an email announcement, posting a notice on social media, or adding a banner to your ecommerce site.
If you sell online with Lightspeed eCom, you can easily add a banner to your storefront. Specify the dates when you'll be away and let customers know when you'll resume shipping orders. For example, "Orders placed Jan 1-10 will be shipped after Jan 12."
It's also a good idea to announce your time off early so that customers have time to place their orders before that.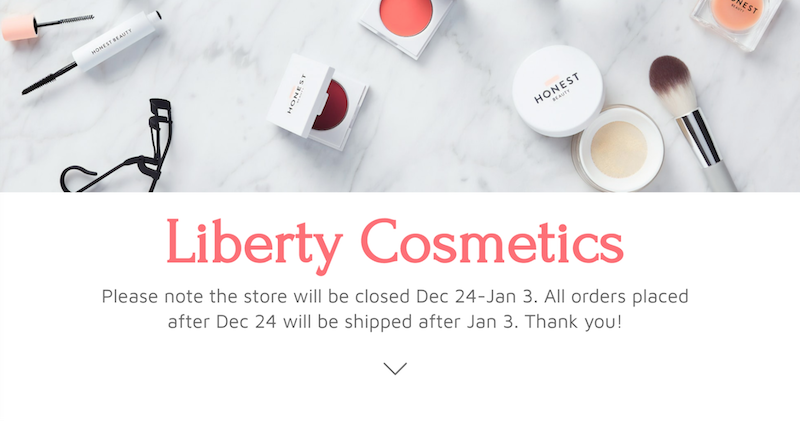 An example of a message you can add you your website to let customers know about your time off 
Leverage pre-orders
It's good to come back from vacation and see that your sales didn't decrease. That's why pre-orders are great. You close sales even when you're away without setting customers' expectations too high in terms of delivery times.
Enable pre-orders in your online store so customers can still purchase your products while you're away. You'll be able to ship those orders in a week or two when you're back—don't forget to let customers know about it on product pages.
It's simple to enable pre-ordering if you sell online with Lightspeed eCom. You can also show an estimated delivery time for pre-orders on a product page to let customers know when to expect the order.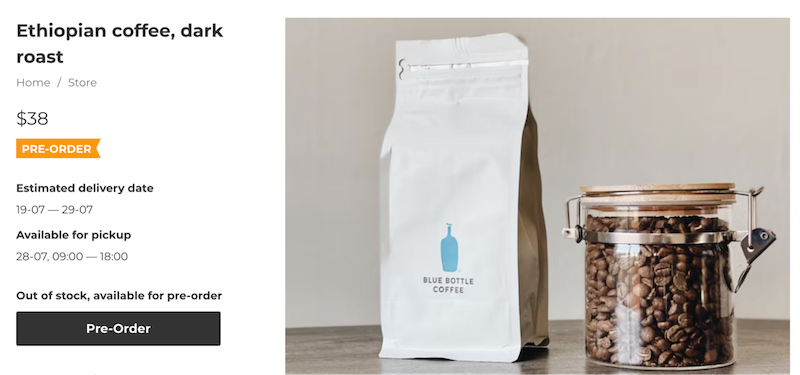 An example of a pre-order product in a Lightspeed eCom store
For best results, stock up on products, materials and packaging before you leave for vacation. This way, you'll have enough time to prepare, pack and ship your pre-orders when you return. 
Automate your marketing
Setting up automated marketing campaigns can help you reach customers when you're away and let you spend more time enjoying your vacation. Automation helps your ecommerce business run as usual, attracting new audiences and keeping your customers informed during your vacation.
Here are a few ways to automate your marketing:
Automate your emails.

Enable abandoned cart emails to recover lost sales. Set up other automated marketing emails, such as favorite items reminders or feedback requests. Seven types of

automated marketing emails

are available for Lightspeed eCom sellers for setup in a single click.

Schedule your ecommerce newsletters.

That can include company news, new arrivals or business blog posts. Prepare your email content and schedule the emails to send automatically to your email list. This feature is available on all popular mail services, such as

Mailchimp

(integrated with Lightspeed eCom.)

Automate social media posting.

Plan and schedule social media content that automatically posts on your specified date and time.

Set up remarketing ads.

This way, you can reach out to previous store visitors who left without a purchase. People who've already been thinking about buying are more likely to become your customers. Lightspeed eCom sellers can set up

retargeting ads

on Facebook or Google right from their admin.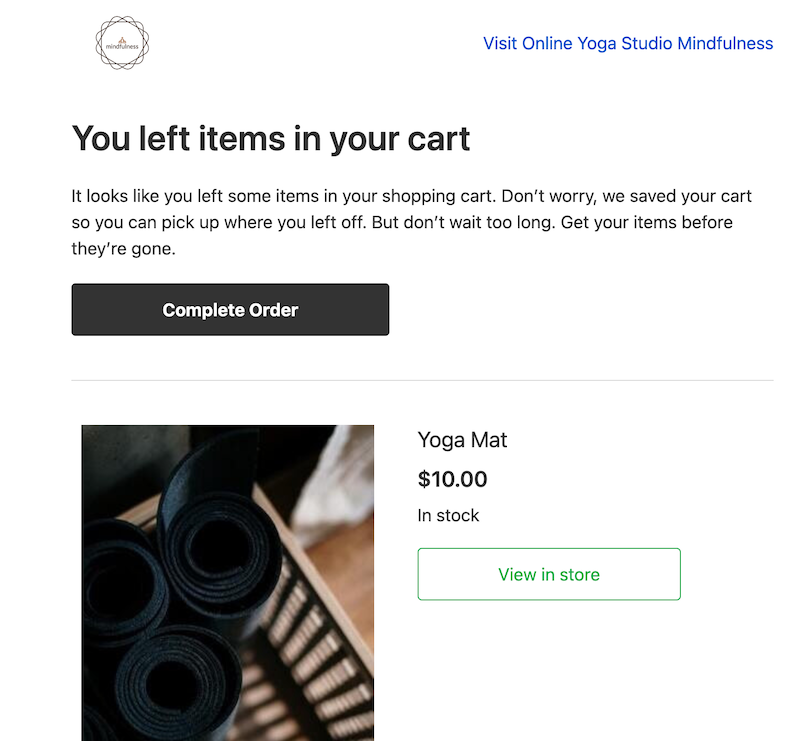 Abandoned cart emails help recover lost sales 
Delegate what you can
Sometimes it feels like no one can do your job as well as you do. However, the inability to delegate is one of the reasons new businesses fail. You need to pause and recharge to make room for important strategic planning later.
Delegate tasks as much as possible, and you won't feel like leaving your business unattended. 
First, prepare instructions for your staff. This can include your customer service policy, guidelines for running social media pages, checklists for packaging and other essential guidelines or procedures.
Don't forget to add staff to your online store admin (if you haven't done that already.) This way,  they can take care of product management, customer service and other business tasks while you're away.
Lightspeed eCom sellers can create staff accounts to provide staff members Admin access to the Lightspeed eCom admin panel. This enables you to delegate tasks without the risk of sharing sensitive information, such as your billing info. For example, you can delegate work and give Admin access to:
store managers – to manage sales and control stock,

fulfillment operators – to prepare orders for shipping, delivery, or in-store pickup,

or marketing managers – to run promotions.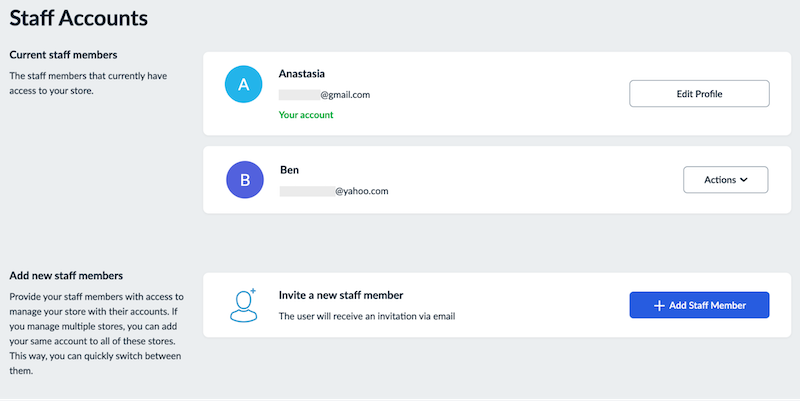 Adding staff accounts in Lightspeed eCom admin 
Optimize your shipping process
Another way to ensure your ecommerce business runs smoothly is to think through your shipping process while you're on vacation.
If you're not going to ship orders, you can just resume sending orders when you're back from vacation. That's the most stress-free way to do it, but don't forget to let your customers know when you will resume shipping.
If you're not going anywhere during your break and are ready to send some orders, consider shipping large orders only. That way, you'll avoid getting overwhelmed with shipping when you're supposed to have time off. 
To avoid offending shoppers with smaller orders, change the delivery terms. For example, offer fast delivery for orders over $100 and send smaller orders in 10-15 days. This way, you get some downtime to relax without shutting down operations completely.
For example, if you sell online with Lightspeed eCom, you can enable faster shipping methods for the most expensive products in your store. Here's how to do that. 
Consider fulfillment options
Fulfillment includes various services for online stores, from receiving calls to packaging and delivery. A fulfillment center can even take over working with your suppliers.
Usually, fulfillment centers sell service packages, but that can be too much if you need fulfillment only for your vacation. The alternative is to pay either by the hour or by the number of processed orders. Pay attention to prices, as sometimes it can be cheaper to pay for each delivery separately. 
Ensure your website works smoothly
On vacation, you may be too busy exploring the sights and enjoying time off to check your ecommerce site. To ensure it works smoothly even when you're away, do a quick check before leaving.
Pay attention to the following:
Check your website performance.

Ensure the store loads fast, the navigation is intuitive, customers can easily find what they need, and all images are loaded correctly.

Place a test order to make sure your customers won't have problems ordering while you're away.

Double-check that your website and social media pages provide a fast way to contact a customer service representative.

Verify that all your passwords are strong: your ecommerce admin, business email account, and social media pages of your business. 
Most importantly, enjoy your vacation
Taking a break is essential for business owners, even if it feels like that's impossible. Having regular breaks and vacations helps you recharge and come back to your ecommerce store with renewed enthusiasm.
Remember to take the time to enjoy yourself. After all, that's why you're taking a vacation!
Do something completely unrelated to your ecommerce business, like going on a trip or trying a new hobby. Create mental and physical space to come back inspired and full of fresh ideas.
The feature-rich ecommerce platform can help you take time off with peace of mind. Sign up for Lightspeed eCom to benefit from pre-orders, automated marketing tools, staff accounts, and other tools that make going on vacation stress-free.