How Remote Access Can Reduce Stress for Employees and IT Support
Remote work in today's world is becoming more and more popular, so services for remote access are in demand. Remote desktop access is a convenient option that allows you to view and control the desktop of another computer remotely via the Internet or other networking options without having to control it.
This is especially important for technicians and system administrators who regularly help their customers. Also, it's indispensable if a specialist cannot visit your office right now and configure the necessary program or fix the system. Installing an update or application can be easier if the contents of the device are in front of you and help the process with remote monitoring and control.
What software is better to use for remote access?
There are many remote desktop programs that can remotely connect to the desktop of another computer and each has its own features. That's why it can be difficult to choose the right software. When choosing, pay attention to a few basic features that a remote access and support service must have:
easy connection and control;
permanent access and quick support;
file transfer capability;
work on all operating systems;
remote sessions recording;
available technical support.
There is also an additional feature that makes it much easier for technicians to work with remote users — the ability to create teams and distribute tasks. Let's describe this feature using the example of the Getscreen.me remote access service.
How IT Teams can Benefit from Remote Access Operations?
Large companies with a staff of 100 or more people usually have several system administrators and technical operators. All of them regularly interact with users and provide technical support, but it is not always productive, because there are many tasks and specialists can be busy.
In this case, it will be very useful to create teams for remote support and maintenance. With the command you will be able to:
distribute the workload among specialists;
manage access and assign administrators;
create a shared account and share computers.
The remote access Team creator can give a name to it and add members. He can also define the role of the participants, for example, it may be a technician or administrator.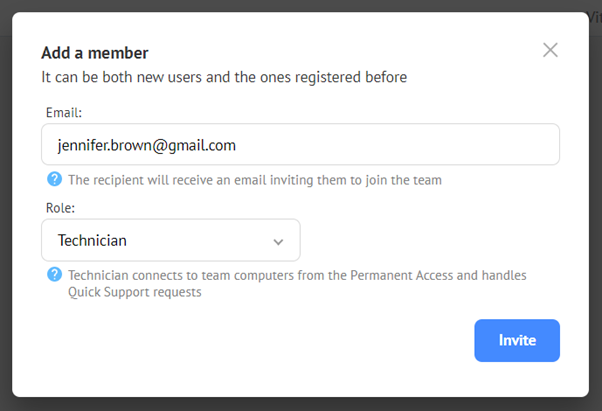 All members of the Team can use the common rate plan, in order to set up remote access and connect to the Team just register on the site and confirm the invitation.  You can give automatic access to new devices to the whole Team or configure it manually. If a person leaves the company, he can be removed.
The Team Administrator can manage the employee list, see and configure customer computers, respond to requests from Quick Support, and change branding settings.
The technician can only handle requests from Quick Support and connect to the command computers from permanent access. The maximum number of employees in a Team is 50 people.
Setting up a remote connection in Getscreen.me is done from web browser. A client can join via a link or connect to the computer from your personal account. For the convenience of connecting a client, the administrator can send him an automatic instruction, which fills on its side (specifying all the technical characteristics) and then passes to the user.
If technician specialists do not plan to use the option of companionship for IT support — they can connect to employees individually. If they need to solve a simple task urgently (for example, to configure a certain program or install an antivirus) — it will be enough to connect via a fast link. The remote user does not even need to install anything on his device.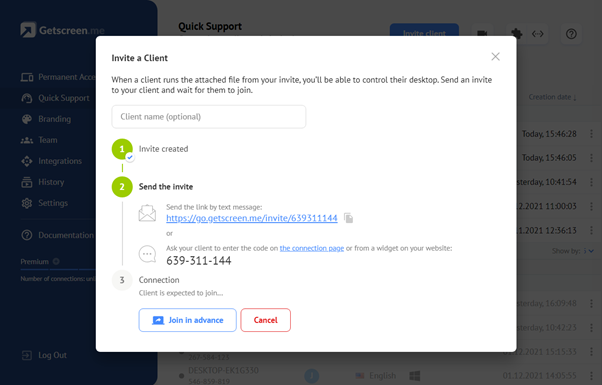 Fast solution of technical problems is important not only for the user, but also for those employees who provide technical support. It is much more convenient to help remotely than to spend time traveling to the office. Therefore, using remote access programs increase productivity and saves time.