Houzz Readers Share Their Christmas Trees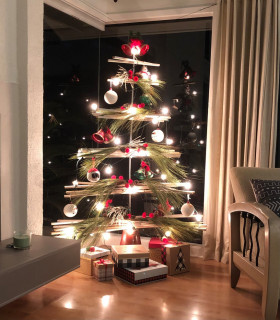 There was about a 50-50 split among Houzz users between live and artificial trees. While most in the latter group love live trees, they admit that switching to artificial has made life easier and free of dropped needles.
Houzz reader Eliza Cross put a lot of admirable sweat equity into preserving her artificial tree. "The artificial tree is 22 years old. Originally it was pre-lit with 1,200 incandescent bulbs, but over the years they all burned out. I removed the tightly wrapped, zip-tied light strands with needle-nosed pliers, which was a surprisingly long and tedious job requiring many pitchers of eggnog," she says. "The positive is that we kept a tree out of the landfill, and now we can easily change up the lights."
After giving the tree new life, she covered it in meaningful ornaments. "The two red cardinals near the top of the tree remind me of my late grandparents, both avid birdwatchers," she says.