HostArmada Review 2023: It's a Game-Changing Host?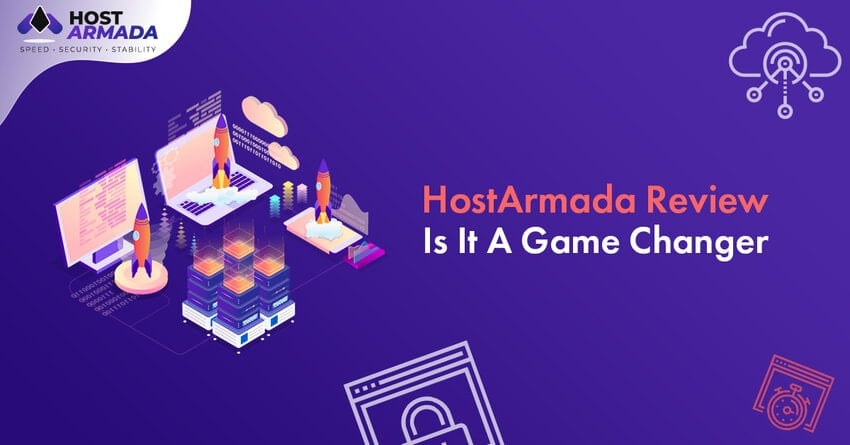 Summary
If you are searching for a reliable, faster and affordable hosting option, try hosting from HostArmada. Here's our detailed review along with uptime, performance reports and pricing.
Are you looking for an affordable yet faster web hosting choice? Then, consider HostArmada to host your WordPress website as it's both budget-friendly and reliable.
Web hosting plays a crucial role in your website's success. From security to better user experience to speed – most of the important things depend on your web host.
That's why you need to be smart. If you're a beginner, you should go for a host that's affordable and offers great features. Here's where HostArmada comes into the picture.
In our hands-on HostArmada review, we'll take you through their hosting features along with some performance tests so you can decide whether it's right for you.
In this detailed review, we'll talk about;
What is HostArmada along with their data centers
Their user interface
Their hosting performance along with reports
Their features list and the benefits of using their hosting
Pros, cons, pricing, and so on
So are you ready to find out the details? Let's get started.
---
We get a commission when you buy a product via our affiliate link at no additional cost.
HostArmada Review 2023: Should You Purchase Their Hosting?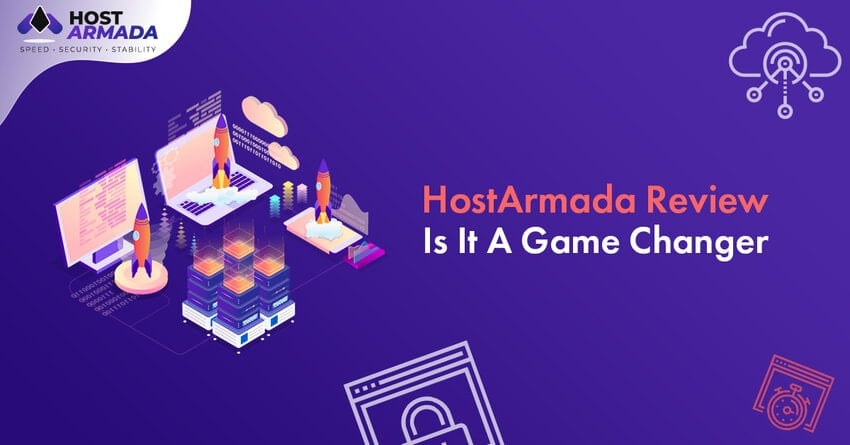 HostArmada
Overview
Pricing
Start Dock:

$2.49

/ $9.95
Web Warp:

$3.74

/ $14.90
Speed Reaper:

$4.49

/ $17.90
Hosting Types
Shared, WordPress, VPS & Dedicated, and Reseller Hosting
Performance & Uptime
Average 30 days Uptime: 99.99%
Average Server Response Time: 97 ms
Average Website Loading Speed: 935 ms
Migration
Free (1-5 websites)
Refund Policy
45 Days
Free Perks
Domain name, SSL, Web Server Caches, cPanel, Daily Backups
Backups Frequency
Daily
Data Centers
9 (USA, UK, CA, DE, Asia, AU
Customer Support Options
Live chat, Phone & Ticket System
Bandwidth
Unmetered
Security Features
WAF, Malware Protection & Scanning, Brute Force Protection, Free SSL, Server Monitoring
Value for Money

✓

Suitable For
Low Budget, Small Sites, Big Websites, etc.
Coupon Code:
FESTIVEDEC75
Start Now
---
What is HostArmada?
HostArmada is a cloud SSD based platform that provides 99.9% uptime and a super-fast website experience along with 24/7/365 customer support assistance.
Although HostArmada is relatively a new entrant to the web hosting industry as they were launched in 2019 but they are quickly becoming popular due to their features, pricing, and faster connectivity.
HostArmada currently has 9 data centers across the world to provide a faster website experience to your users.
Here's the list of their data centers.
Fremont, California, USA
Dallas, Texas, USA
Newark, New Jersey, USA
Toronto, Ontario, CA
London, United Kingdom
Frankfurt, Germany
Bangalore, India
Singapore
---
Overview of HostArmada Features
Here's a list of some of the amazing features offered by HostArmada.
Free SSL for all sites
Daily backups
Provides cloud SSD storage
Unmetered bandwidth
Unlimited emails and databases
FREE website transfer
1-click WordPress install
Free drag and drop site builder
Web server cache
45 days money-back guarantee
Provides 99.9% Uptime
Customer support access 24/7/365
Are you ready to grab their hosting plans at an affordable price? Use the following link to get started with their hosting at a 75% discount today.
Click here to try their hosting at 75% off (use coupon: FESTIVEDEC75)
---
How to start a blog on HostArmada: Step by Step
Are you tired of your current web hosting choice? Or are you looking for a new host that's both affordable and full of great features? If you're looking for a simple tutorial on starting your own blog on HostArmada hosting, here's a step by step tutorial for you.
Click on this link to visit HostArmada's website where you'll see their hosting plans.
As you can see above, their shared hosting plans are starting at just $2.49 per month and you'll also have a limited time coupon "FESTIVEDEC75" to avail 75% discount on their shared hosting plans.
Simply click on the "Plans & Pricing" as shown above where you'll see their 3 shared hosting packages.
Have a look;
If you're on a tight budget and looking to host just 1 site, go with their Start Dock plan. Otherwise, we recommend you to try either Web Warp or Speed Reaper plans as they allow you to install unlimited sites.
Once you choose your preferred plan, you'll be redirected to their domain registration/transfer page which looks like this;
Quick note: HostArmada offers free domain registration as long as you remain their customer. You can also use your existing domain from another registrar if you just want hosting.
After that, you'll be taken to their billing cycle.
Next, choose your billing cycle.
Side note: Go with their 36-month billing cycle, that way, you'll be charged $2.49/mo on their basic plan for 3 years. If you go with their 1 year plan, you'll have to pay more after a year because of their high renewal rates.
Also, choose the data center closer to your target audience to provide them with a faster website experience. Then, proceed to the payment and you'll receive a confirmation email from them.
If you go with their basic plan i.e Start Dock, you'll be able to get a FREE domain along with 1 year of hosting for just under $36.
Have a look!
See that? That's a steal, right?
Once you purchase their hosting package, you can contact their support staff to install SSL certificates, WordPress and so on. It's all free!
---
HostArmada User Interface
Here's how the client dashboard looks like;
As you can see above, from their dashboard, you can manage everything from your hosting billing cycle to domains, services, and so on.
Here's how their cPanel dashboard looks like;
As you can see above, you'll get cPanel quick access functionality where you can manage everything from email accounts to file manager to backups to addon domains, databases, and so on.
---
How good is the speed and performance of the HostArmada?
Using top website performance testing tools, We did a quick test on our test website using HostArmada hosting – so we'll share the performance and speed so you'll get an idea about their hosting performance.
Here's the performance report from GTMetrix.
As you can see above, their hosting is extremely fast and performance is showing an A grade (99% out of 100) including a YSlow score of 92%.
Quick note: Your website speed and performance depends mostly on the hosting data center you choose. So make sure to pick the closest data center where your target audience mostly browses/visits your site to provide them faster loading times.
Here's another testing performance report from Bitcatcha.
As you can see, the overall response times across the globe are extremely faster along with A+ performance.
Here's the Google Core Web Vitals report.
As you can see, the overall performance, accessibility, and best practices are exceptional on Google web vitals.
Here is the Pingdom speed test result.
As you can see, our new test site is loading within a second which is great.
Here's the screenshot from different locations using UpTrends.
See that? Our test website is loading extremely faster from almost every single location shown above.
So the bottom line is, HostArmada's overall website hosting performance, uptime, and speed is extremely good.
If you're looking for a budget-friendly hosting choice that offers exceptional hosting features along with top-notch hosting performance, you should try hosting from HostArmada.
---
What Does HostArmada Offer? Top 5 Benefits of Using Their Hosting
So why should you go for HostArmada when there are already a ton of other web hosts? What does HostArmada even offer? Here are the top 5 BIGGEST benefits of using their hosting.
1. Faster website loading times
If you're blogging for a while, you've probably heard about the importance of faster loading websites. Faster loading times make your website visitors happier and it also helps with better SEO (as Google loves speed!).
Google has indicated that website speed (also "page speed") is one of the signals used to rank pages. Google hates slow loading websites as it significantly downgrades the user experience.
Backlinko conducted a study where they analyzed over one million search results on Google and discovered that average page load speed for any given website was a huge factor in ranking higher.
So if you're in the hunt for the fastest website hosting to serve up your site, try HostArmada as their technology improves your overall website loading times.
Here's how HostArmada achieves faster website loading times.
Usage of cloud SSD drives (faster reading and writing times, up to 300% faster than the conventional HDD)
LiteSpeed Cache which helps speed up WordPress sites
Memcached Cache
Offers free Cloudflare CDN so anyone browsing your site from anywhere across the world can experience faster loading times
Brotli compression (reduces page size along with the page loading time)
Above all, HostArmada uses LiteSpeed Web Server that outperforms both Apache and NGINX web servers!
2. Less number of clients per server
Most people use shared hosting plans because of ONE reason: "affordability". Yes, shared hosting plans are extremely affordable for everyone.
But there's one big concern with shared hosting: the hosting resources are shared with too many people on the same server.
What happens when too many users use the resources from a single server? Every website hosted on it takes too much time to load. Slower loading times, frequent downtime issues – all these issues happen because of that.
One great thing about using new web hosting platforms like HostArmada is there will be less number of people using the same server.
That means you'll be getting better resources such as CPU, speed, performance, and low server load. So you won't have to compromise on the speed or downtime as they also claim a 99.9% uptime.
Not only that, all their shared hosting plans come with cloud SSD drives as they perform 300% faster than HDD drives.
3. Free website migration service
Are you using a web host that you don't like? Do you want to migrate your site(s) to a better hosting like HostArmada? Then, you can do that effortlessly as they offer free site migration.
They will migrate everything starting from files, folders to all the databases and emails to their servers at free of cost.
All you need to do is to contact their customer service, buy their hosting, and ask them for free migration. They will do the rest for you!
Apart from the free website migration service, you can also avail of the following services at free of cost.
Free SSL certificate installation
WordPress installation (yes they will also install WordPress for free if you want)
Free SSL renewal on all domains as long as they remain pointed to their hosting service
Free transfer of your WordPress website
Above all, you'll also get a free domain name and they will renew it for FREE as long as you remain their customer. So it's a great chance if you haven't purchased a domain yet and are looking for an affordable host to run your site.
4. Bulletproof security
Whether you know it or not, thousands of WordPress websites get hacked every single day.
Once your site gets hacked, it gets infected with malware and in most cases, hackers will use your website to redirect users to other malicious sites. It happened to us too!
That's why you need to take care of your site security even if you're running a new site.
When it comes to website security, your web host plays a key role. Fortunately, the HostArmada hosting environment is equipped with a ton of incredible security features to secure all the sites hosted on their servers.
Here are some of the security features that are notable.
The usage of "Connection Limit" which allows for the number of requests per second from a single IP address to be a certain limit. It reduces the risk of DoS attacks.
Web Application Firewall Solution (WAF) is provided which takes care of threats such as  XSS attack or SQL injection.
Prevention of Distributed Denial of Service (DDoS) Attacks
Apart from the above, they also frequently perform malware scanning, live security monitoring, intrusion detection, proactive zero-day attack detention and so on.
5. Offers a wide range of freebies!
Another major reason to consider HostArmada to host your site is they offer a long list of incredible freebies which are listed below.
Free SSL certificates: SSL certificates are required if you want to secure your domain/site from HTTP to HTTPS secured version and they establish a secure encrypted connection between browser and server. Whether you know it or not, Google gives more weight to the sites/domains with HTTPS.
HostArmada offers free SSL certificates for an UNLIMITED number of domains (depending on your hosting plan). The best part? They will install SSL certificates for free if you need help.
Free daily backups: Maintaining daily backups of your websites is a daunting task. But you need to take regular backups of your site if you don't want to lose any website's data. Most web hosts don't provide free backups or they charge an extra premium for providing backups but HostArmada offers them for free.
The good thing about HostArmada is all their cloud SSD hosting plans have automated cPanel backup service activated by default. So you can restore your files in case you lose data accidentally.
Free domain register or transfer: Most web hosting companies charge extra for domain name registration. Fortunately, HostArmada offers free domain registration.
The best part? You don't have to pay anything for domain renewal as long as you remain their customer. Also, they provide a free domain transfer if you already have a domain.
Free private DNS: Except for their basic shared hosting plan, you'll get access to their FREE private DNS. A private DNS (domain name server) is usually created with a domain you control to replace nameservers given to you from your web host.
A long list of awesome hosting features, right? So are you ready to try their hosting? You can use the following link to get a 75% instant discount on their shared hosting plans.
Click here use their hosting: 75% INSTANT discount (use coupon: FESTIVEDEC75)
---
HostArmada Hosting Pricing Plans
HostArmada offers three pricing plans in its managed cloud SSD shared hosting environment which are;
Start Dock
Web Warp
Speed Reaper
Let's briefly talk about their plans along with pricing and features.
1. Start Dock: This is the most affordable and cheapest shared hosting plan from HostArmada which costs you just $2.49 per month where you'll get the following hosting limits.
Install 1 website
15 GB cloud SSD storage
2 Cores CPU
2 GB RAM
Unmetered bandwidth
FREE domain registration or transfer
Suitable for sites up to ~30,000 unique visitors
7 daily backups
2. Web Warp: If you're looking to install unlimited sites/domains, this plan is for you which costs you $3.74 per month and offers you the following features.
Install unlimited websites
30 GB cloud SSD storage
4 Cores CPU
4 GB RAM
Unmetered bandwidth
FREE domain registration
Up to 3 FREE domain transfers
Suitable for sites up to ~60,000 unique visitors
14 daily backups
Free private DNS
3. Speed Reaper: If you're looking for ultimate website speeds, this plan is for you which costs you $4.49 per month and it provides you the following list of features.
Install unlimited websites
40 GB cloud SSD storage
6 Cores CPU
6 GB RAM
Unmetered bandwidth
FREE domain registration
Up to 5 free domain transfers
Suitable for sites up to ~120,000 unique visitors
21 daily backups
Free private DNS
LiteSpeed webserver
Dynamic LS caching for WordPress
You can also upgrade to any higher plan as your site grows without any hassles. Simply visit their "Upgrade Center" from HostArmada's Client Area and pick the plan that suits your website needs.
If you still need any help in upgrading to a better plan, you can get in touch with their technical support team who's available 24/7 and they'll help you with whatever you need.
So what are you waiting for?
Try their hosting at 75% OFF (use coupon: FESTIVEDEC75)
---
Pros & Cons of HostArmada
Here's a list of some of the pros and cons of using their hosting.
Pros:
They maintain a lower number of clients per server which ultimately helps you with faster website loading times and connectivity
Their shared hosting plans at just $2.49/mo and they're cheaper than many competitors
You'll get a FREE domain as long as you remain their customer (most web hosts don't do this as they offer a free domain only for 1 year!)
Free daily backups are provided which are stored remotely
Includes a fully managed control panel
It provides free website migration
There are no additional costs for canceling your service
Offers a 45-day money-back guarantee
Their customer support is super fast and operates 24/7/365
Their data centers are deployed in 9 places around the world to provide optimal speeds
All their shared hosting plans come with a free drag-and-drop website builder
Offers SSD storage with all the plans
Provides multiple layers of security firewalls to prevent your site from security vulnerabilities
Cons:
The promotional pricing plans are valid only for the first signup term. Upon renewal, the regular price will be charged! So it's a better idea to go with their triennial plans (36 months) to save more on their hosting plans.
Read: HostArmada Coupon Code 2023: Get 75% OFF Now
---
HostArmada Reviews from Users
So what do other people think about HostArmada hosting? Let's find out from various platforms.
On TrustPilot
On TrustPilot, HostArmada got very good reviews (4.9 out of 5) and most users seem to be happy with their services so far.
On Facebook
Again, a 5 star rating from their customers on Facebook.
So yes, customers who're using their hosting seem to be pretty satisfied with their hosting features and services.
---
How good is their customer support?
They provide 24/7/365 customer support assistance in various ways including;
Phone
Ticketing system and
Live chat
At the time of writing this review, we messaged their customer support team through live chat and we got an instant response.
Who doesn't like instant responses?
So we'd rate 10/10 for FASTER customer support assistance.
For their existing hosting customers, they also offer free support by Phone.
Their customer support team is experienced and also provides a faster response to their users. From website transfers to domain registration, transfers, SSL installation to cPanel assistance, they will help you with almost everything you want.
---
FAQs
What is HostArmada?

HostArmada is the fastest growing web hosting company that offers the most innovative and creative approach to Cloud SSD Web Hosting Solutions!
Is HostArmada's WordPress Hosting service Cloud-Based?

Yes, their WordPress web hosting plans are powered by Cloud Platform virtualized with the KVM® virtualization technology that ensures every web hosting server can utilize 100% dedicated resources.
What are the plans available for HostArmada WordPress hosting?

HostArmada offers 3 fully-featured plans (Start Dock, Web Warp, Speed Reaper ) for its WordPress hosting cost at $2.49/mo, $3.74/mo, $4.49/mo respectively.
How reliable is HostArmada's WordPress Hosting?

99.9% uptime, security patches, up to date web hosting environment, and constant servers' monitoring, makes it a stable and reliable web hosting service for everyone.
Will I get a free domain name with HostArmada shared hosting?

Yes, all their shared hosting plans are included with a free domain name.
Does HostArmada also offer free WordPress website transfers?
They will transfer from 1 to 3 WordPress websites along with all your emails upon request for free based on the package you choose.
What about the backup feature on HostArmada?

At HostAramda, they perform automated daily backups for all the websites hosted on their servers which you can restore whenever needed directly from the control panel.
How secure will my sites be with HostArmada WordPress Hosting service?

Their experienced technical staff and system administration team have developed security solutions followed by time-tested protocols that cover nearly 99% of the Internet attacks and try to patch any vulnerability at a server level.
How can I contact the HostArmada Technical Support Team?
You can contact their support team via call, live chat session, or ticketing system which is available 24/7/365.
Can I get a refund on HostArmada?
Are there any alternatives for HostArmada?
Can I get a Free domain name with HostArmada?
Yes. HostArmada will give you a free domain name with all hosting plans.
---
What Others are Reading:
---
Final Thoughts
HostArmada quickly established itself as a top-notch hosting company that provides faster and secure web hosting along with 24/7/365 customer support. On top of that, their pricing plans are extremely affordable.
It also offers a ton of incredible hosting features such as a free domain, website migrations, backups, SSD storage, and more.
So what are you still waiting for? If you're looking for an affordable hosting choice, try HostArmada and let us know if you still have any questions.