Honoring the Soul of a 1920s Spanish-Style Home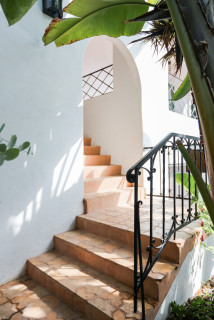 In the colorful Los Angeles neighborhood of Silver Lake, a pair of Hollywood writers purchased a 1920s Spanish-style house that they set out to renovate and expand. Let's just say plot twists ensued, and by the time interior designers Jonathan and Jess Taylor of Taylor + Taylor entered the scene, the house had been gutted and reframed, but not a single finish had been considered. Nor was there a design deck or any drawings. "It was in a rough spot," Jonathan says.
Cut to today and the house has a timeless, stylish but not too precious look that reflects the Taylors' and the homeowners' shared respect for the original architecture and their near-obsession with detail. See how the story unfolded below.