7 Best Jewelry Inventory Software for 2023
Jewelry inventory software helps jewelry businesses organize and track metals, findings, gemstones, and finished products. The best solutions provide control and visibility throughout the supply chain and provide purpose-built tools made for working with jewelry.
Depending on your business model and scale, your inventory management needs may require specific features. Retail jewelry stores typically use an inventory system built into their point-of-sale (POS) software to facilitate in-store sales, while ecommerce stores rely heavily on platform integrations. If you need to track the materials and labor involved in making the jewelry you sell, look for a solution with manufacturing features.
The best inventory management software for small jewelry businesses are:
Best Jewelry Store Inventory Software Compared
Zoho Inventory: Best for Online Jewelry Stores
Zoho Inventory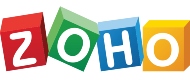 Overall Score: 4.45
OUT OF 5
RATING CRITERIA

Pricing
4.00
OUT OF
5
Features
4.80
OUT OF
5
Ease of Use
4.25
OUT OF
5
Expert Score
4.38
OUT OF
5
Pros
Online store builder, ecommerce integrations, and centralized multichannel management
Free plan option plus 14-day free trial on paid plans
Basic manufacturing features and work order function
User-friendly mobile app
Cons
No purpose-built features for managing jewelry items or consignments
No return management features
Limited POS integrations
Zoho Inventory Pricing
Free: 50 monthly orders, 1 warehouse, 2 users
Standard- $79/month: 1,500 orders, 2 warehouses, 3 users
Professional- $129/month: 7,500 orders, 5 warehouses, 5 users
Premium- $199/month: 15,000 orders, 7 warehouses, 10 users
Elite- $299/month: 25,000 orders, 15 warehouses, 15 users
Ultimate- $329/month: 25,000 orders, 15 warehouses, 15 users, advanced analytics
Zoho Inventory delivers a well-rounded platform to tackle small jewelry business inventory management at an affordable price. While it's not the most specialized software on our list, Zoho comes with all the basic tools you need to track findings and finished products across multiple warehouses and ecommerce channels.
The software gives you options for recording granular item details (plus photos) as well as the ability to create and manage work orders. It also has basic manufacturing functions—enabling you to create a bill of materials, tally production costs, and generate custom prices for finished goods. Beyond inventory features, Zoho delivers purchase ordering, reporting, vendor management, and CRM tools to help your business run smoothly.
Zoho earned a total score of 4.45 out of 5 in our evaluation, performing well in each category. But it was docked in expert score for lacking the standout jewelry-specific features that wJewel and Valigara offer—such as default fields for specs like metal type and ctw, as well as the ability to pull gemstone reports from the GIA (Gemological Institute of America).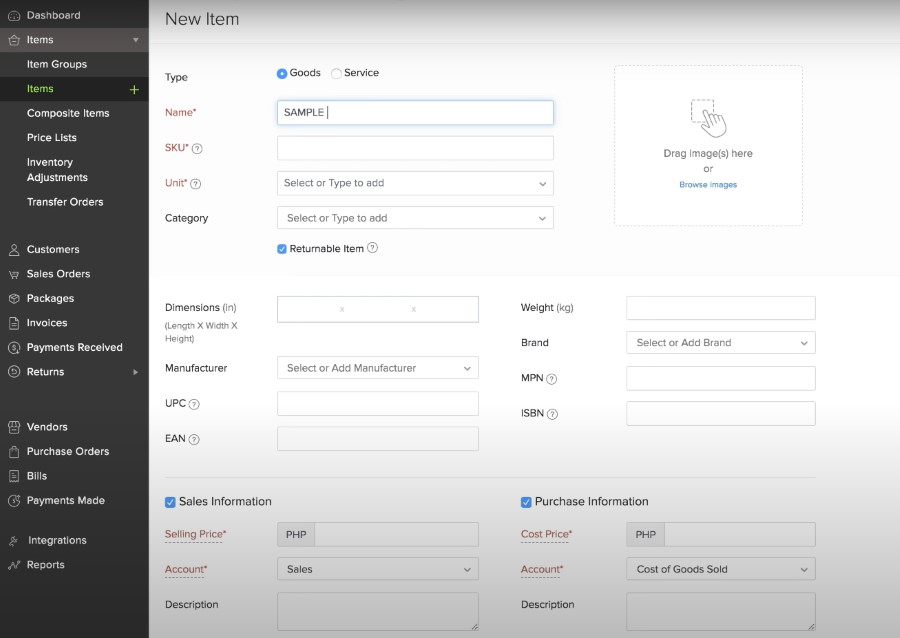 When adding an item in Zoho you can record a variety of specs in the system's default fields and add your own dynamic custom fields. (Source: Zoho)
---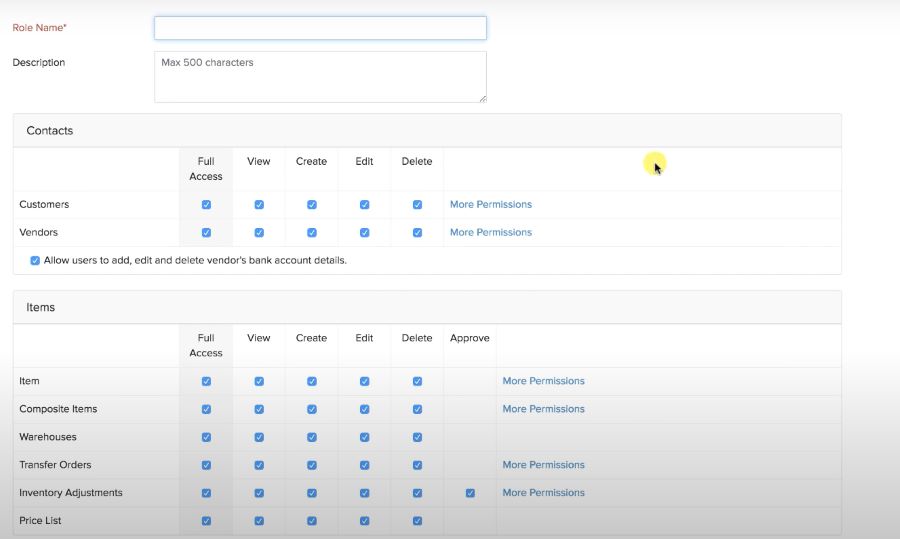 User account permissions can be easily customized to limit actions within contacts, inventory, sales, purchases, settings, and reports. (Source: Zoho)
---
Zoho Inventory Features
---
wJewel: Best for Brick-and-Mortar Jewelry Stores
wJewel

Overall Score: 4.22
OUT OF 5
RATING CRITERIA

Pricing
3.00
OUT OF
5
Features
4.75
OUT OF
5
Ease of Use
3.75
OUT OF
5
Expert Score
4.63
OUT OF
5
Pros
Powerful, industry-specific functionality
Unlimited user accounts and inventory entries
Purpose-built features for repairs, consignments, appraisals, custom builds, pawn, and more
Baked-in SMS customer communication and feedback request tools
Cons
Clunky user interface
Limited pre-built integrations
No free trial
wJewel Pricing
Prices for single-store operations starting at:
Monthly subscription: $125/month
or
One-time purchase: $3,500
wJewel is a retail POS (point-of-sale) jewelry store management software built to manage all aspects of your jewelry business—including your inventory. Unlike similar software (such as Lightspeed), every feature in wJewel is purpose-built for jewelry stores, which enables a variety of industry-specific functions that most competing platforms either can't do or require workarounds to perform.
The software includes a sophisticated inventory management suite that updates inventory in real time across multiple sales channels and locations, including off-site locations held by contractors for secure tracking. It can even be set to automatically adjust selling prices based on real-time changes in the Rapaport Price List. wJewel's unlimited user accounts come with granular, customizable permissions and action histories, making it useful for managing large teams.
wJewel scored 4.22 out of 5 in our evaluation, earning points for its impressive features and accessible monthly pricing (although no free plan like Zoho). We deducted points for the software's outdated user interface; we found that it's simple enough to navigate, but the old school platform is far less sleek than competitors like Lightspeed. Users report that the system also struggles with online integrations, making it a better choice for brick-and-mortar retailers than omnichannel sellers.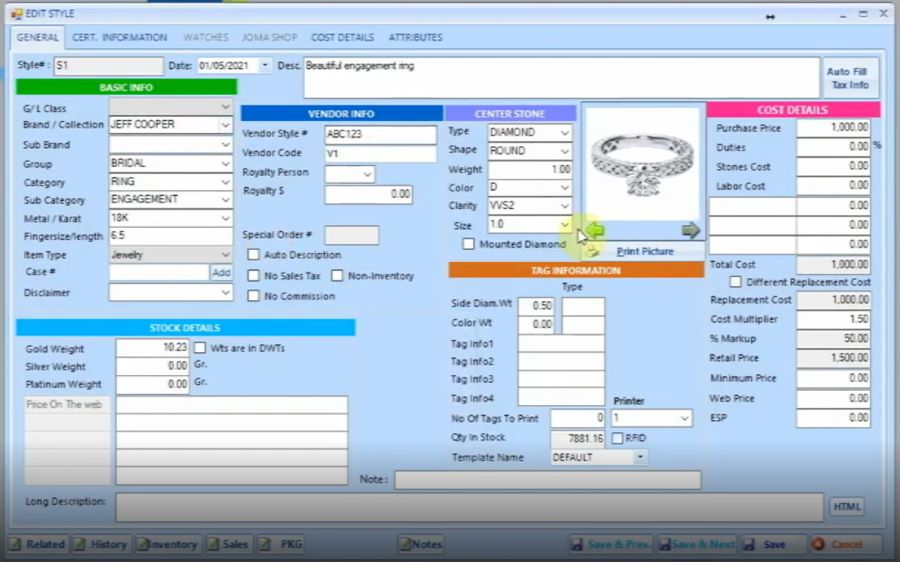 Inventory detail in wJewel is highly granular, with a wide array of jewelry-specific default fields, unlimited custom attributes, and unlimited photos. Cost details can also be inputted here to itemize duties, labor, stones, and more. (Source: wJewel)
---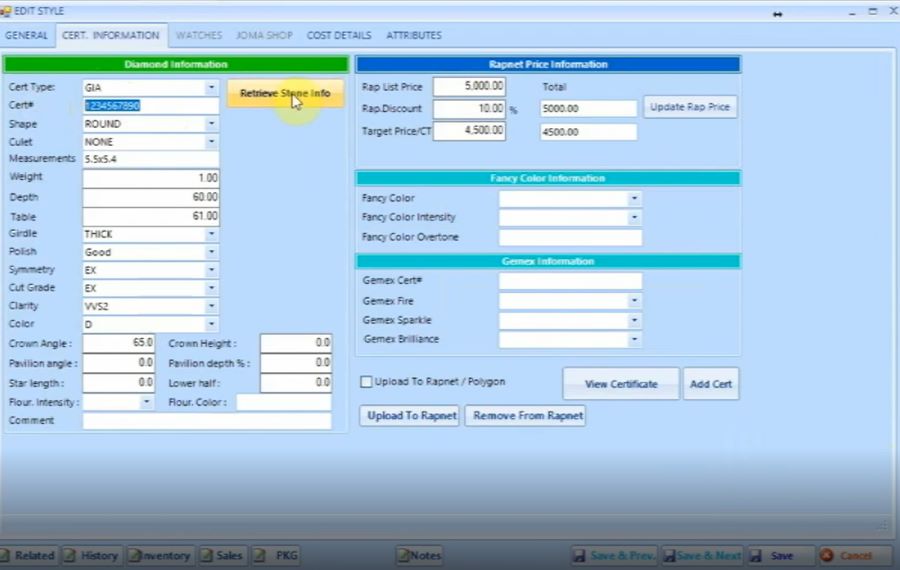 The inventory tool can import stone specs, reports, and certificates from the GIA as well as other laboratories. (Source: wJewel)
---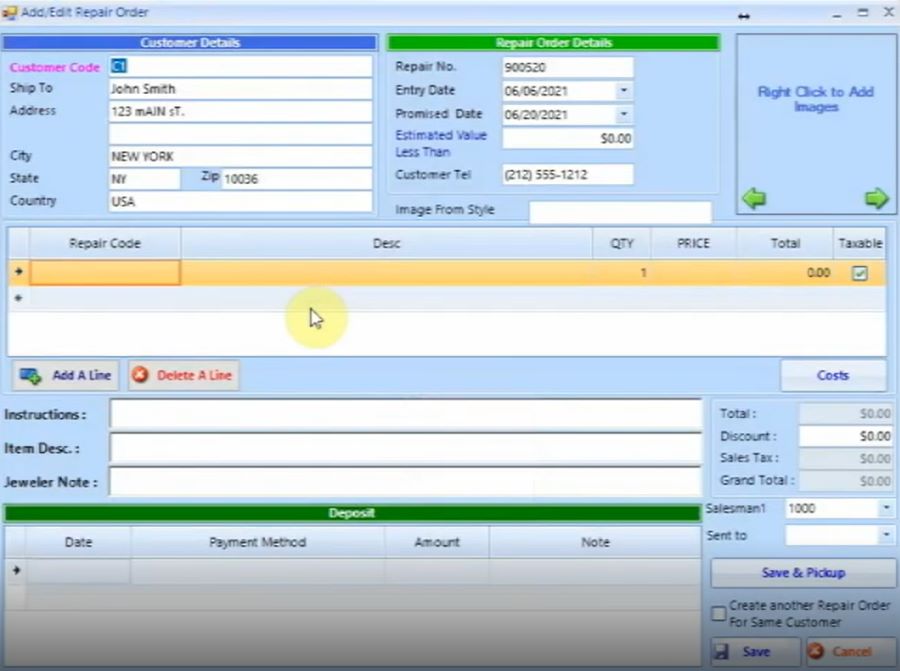 wJewel comes with a robust repair function for creating, pricing, tracking, and managing work orders. (Source: wJewel)
---
wJewel Features
---
Lightspeed Retail: Best for Omnichannel Sellers
Lightspeed Retail

Overall Score: 4.07
OUT OF 5
RATING CRITERIA

Pricing
2.00
OUT OF
5
Features
4.65
OUT OF
5
Ease of Use
4.38
OUT OF
5
Expert Score
4.63
OUT OF
5
Pros
Integrates seamlessly with ecommerce platforms, marketplaces, social media, and in-store POS
Fulfillment
Mobile app and portable equipment for popups and off-site sales
Advanced CRM, vendor management, and reporting
Cons
User interface has steep learning curve
No purpose-built tools for appraisals, consignments, gold buying, or memo orders
Limited manufacturing features
Lightspeed Retail Pricing
w/ integrated payments*- $89/month
In-store application only
w/ integrated payments*- $149/month
Includes ecommerce and accounting integrations
w/ integrated payments*- $269/month
Includes loyalty program and advanced reporting tools
Enterprise- Custom pricing
Custom features for large businesses
*Incurs Lightspeed Payments processing rate 2.6% + 10 cents per transaction
Lightspeed Retail is another full-featured point-of-sale (POS) system but, unlike wJewel, it was built to serve a wide variety of industries. But what it lacks in jewelry-specific functionality it makes up for in robust connectivity and multichannel management capabilities—making it our top recommendation for juggling both in-store and online jewelry sales.
The software packs powerful inventory management features (among an array of other tools) into its cloud-based system, which is accessible from any computer, mobile device, or Lightspeed's proprietary hardware. It connects with your online channels to sync inventory in real time, manage orders, run advanced reports, and facilitate hybrid fulfillment techniques like click and collect.
In our evaluation Lightspeed was awarded for its powerful inventory features and well-rounded store management capabilities, earning a final score of 4.07 out of 5. It also scored points for its overall popularity and granular inventory detail. However the software was docked for its high price point, unintuitive user interface, and lack of jewelry-specific features.
Lightspeed Retail Features
---
Orderry: Best for Jewelry & Watch Repair Shops and Services
Orderry

Overall Score: 3.93
OUT OF 5
RATING CRITERIA

Pricing
3.25
OUT OF
5
Features
4.15
OUT OF
5
Ease of Use
3.31
OUT OF
5
Expert Score
4.50
OUT OF
5
Pros
Specialized tools for creating, pricing, and managing work orders
Affordable, customizable plans
Unlimited bin location tracking
Integrates with SMS and email communication platforms
Cons
Very limited native integrations
Lacks vendor management and advanced purchase order capabilities
Small number of online user reviews
Orderry Pricing
All plans come with one employee account and one location
Hobby- $39/mo: 100 sales; +$3 per additional employee (limit 5)
Startup- $69/mo: unlimited sales; +$6 per additional employee; +$49 per additional location
Business- $89/mo: unlimited sales; +$9 per additional employee; +$79 per additional location
Enterprise- from $199/month; custom features
Orderry delivers a strong platform purpose-built for managing job orders, complete with specialized inventory management tools. It enables users to create an unlimited number of bin locations with its built-in barcode generator, helping you keep findings, stones, and watch parts well-organized and easily accessible. From there, you can perform or automate bin-specific stocktakes as needed to monitor availability. It also has dedicated functions for tracking tools, consumables, and customer merchandise.
Beyond its inventory tools, Orderry's powerful work order management features make it easy to create, price, and process jobs—and communicate with customers about their progress. It pulls work orders from multiple channels into one centralized database, which syncs with your inventory in real time for full control and visibility. Jobs can be scheduled and assigned to individual employees, who can access the platform at their bench from the Orderry app on any mobile device.
We gave Orderry a final score of 3.93 out of 5 in our evaluation. It offers robust functions tailor-made for repair shops at some of the lowest prices of any provider on our list—which earned it major points in our expert score for value. But the software was docked for its lack of connectivity with POS software and ecommerce platforms, as well as its low number of user reviews.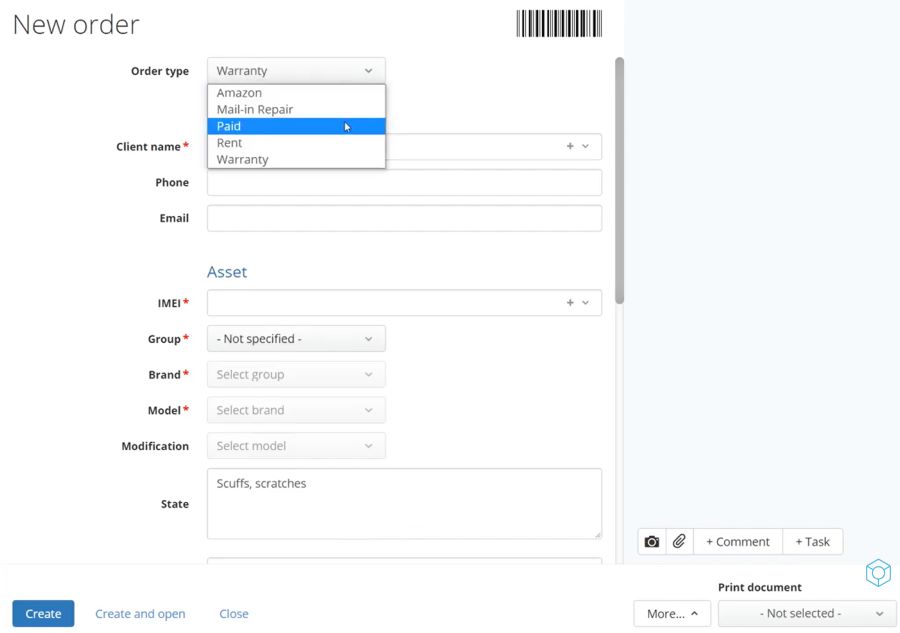 When creating a work order in Orderry, selecting the Order Type pulls up a specific, customizable order form as well as the option to attach files or photos, customer info, payments, scheduling, and more. (Source: Orderry)
---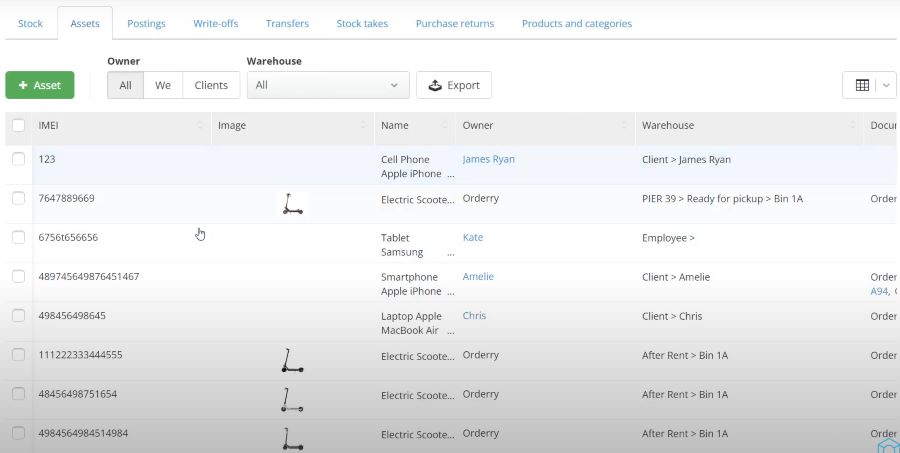 The system allows you to organize inventory by stock (items and parts that your business owns) and assets (customer merchandise you've taken custody of). (Source: Orderry)
---
When creating an asset, you can attach a customer profile, images, detailed specs, and condition reports. Orderry saves each asset's work order history. (Source: Orderry)
---
Orderry Features
---
Katana: Best for Volume Jewelry Manufacturing
Katana
Overall Score: 3.88
OUT OF 5
RATING CRITERIA

Pricing
1.75
OUT OF
5
Features
4.35
OUT OF
5
Ease of Use
4.00
OUT OF
5
Expert Score
4.75
OUT OF
5
Pros
Tracks raw materials, components, finished products, labor, tools, and consumables
Automated inventory transactions and re-orders
Production scheduling, costing, and master-planning features
Advanced reporting and analytics
Cons
High price point
No D2C quote function or repair features
Complex features may be overkill for small businesses
Katana Pricing
Essential- $129/mo: 500 sales order lines, 1 user, 3 warehouses; $29 per additional user
Advanced- $349/mo: 5,000 sales order lines, 1 user, 3 shop floors operators, 3 warehouses; $39 per additional user
Professional- $799/mo: 25,000 sales order lines, 1 user, 3 shop floors operators, 3 warehouses; $79 per additional user
Enterprise- custom pricing: custom features
Katana is a manufacturing ERP (enterprise resource planning) solution loaded with tools to help jewelry makers manage their inventory and production for maximum efficiency. It's designed to give you visibility and control over all aspects of your operation—from purchasing raw materials to fulfilling customer orders.
While the majority of software options on this list have basic features to support manufacturing, Katana comes with sophisticated tools for tracking raw materials, components, products, tools, orders, and labor—as well as managing production with precise planning and costing. It can even create contract manufacturing workflows to give you high-level visibility on outsourced production. That being said, it doesn't come with features to create and manage work orders for functions like jewelry repair.
Katana scored 3.88 out of 5 in our evaluation, earning points for its powerful, specialized functions and solid ease of use. But the software comes at a high price point and includes overkill features that many small jewelry businesses don't need, which ultimately brought down its score. Overall, these attributes make it best for mid- to high-volume manufacturers, while we recommend Craftybase for small-scale makers.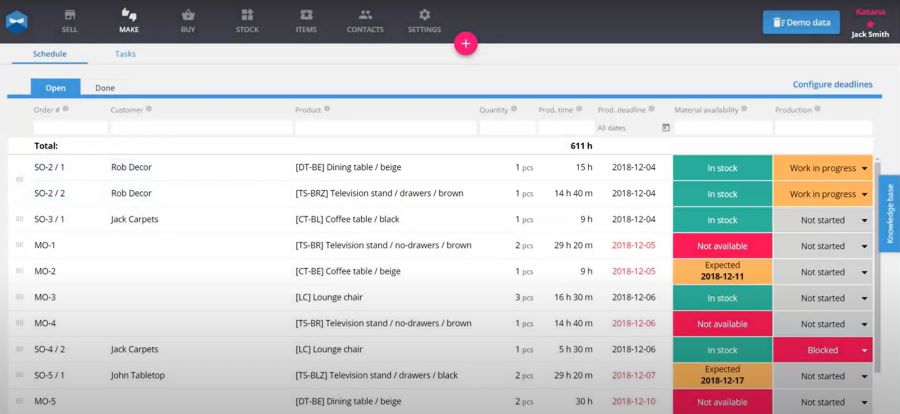 Katana's visual production planner displays all queued production orders along with material availability, production time, deadlines, and production status. (Source: Katana)
---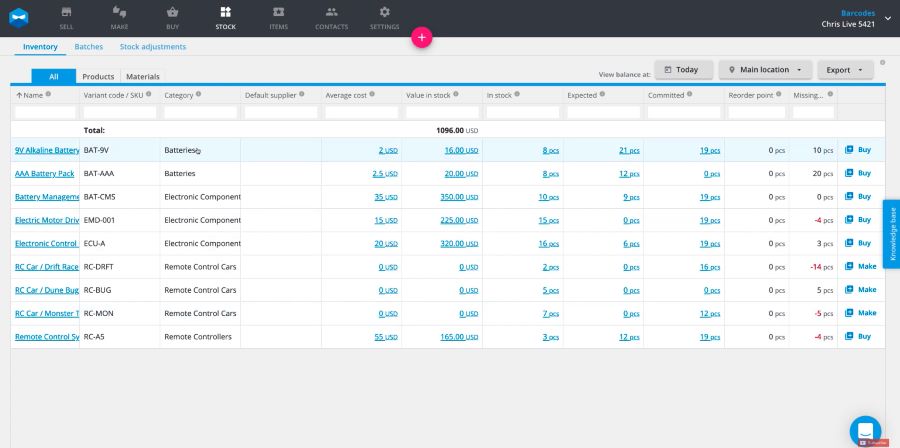 The software's stock overview page categorizes inventory into products and materials. From here, you can see each item's stock level, committed quantity, expected quantity, and more. (Source: Katana)
---
Katana Features
---
Valigara: Best for Selling on Online Marketplaces
Valigara

Overall Score: 3.50
OUT OF 5
RATING CRITERIA

Pricing
0.50
OUT OF
5
Features
4.03
OUT OF
5
Ease of Use
4.00
OUT OF
5
Expert Score
4.75
OUT OF
5
Pros
Robust multichannel management tools
Automatic listing generation with SEO
Purpose-built features for managing jewelry and gemstones
Extensive native integrations
Cons
Very high price point
Considerable learning curve
Limited work order function and no features for appraisals or consignment items
Valigara Pricing
Bronze- $275/mo: 500 SKUs; 1 user; 1 integration
Silver- $450/mo: 2,000 SKUs; 2 users; 2 integrations
Gold- $847/mo: 5,000 SKUs; 5 users; 5 integrations
Platinum- custom pricing: custom features
Valigara is a specialized product information management (PIM) software tailor-made for selling jewelry on online marketplaces. The software features a simple, intuitive user interface for inventory management with tools for tracking materials, products, and variations in real time. It records granular product info with dynamic custom fields and connectivity to GIA and RapNet for pulling reports.
But Valigara sets itself apart from the competition through its marketing and listing optimization tools—which include automations for posting, revising, and renewing listings as well as robust ecommerce SEO features. Valigara's Data Enhancement tools use your product info to automatically generate listing content that's optimized for each marketplace's specific search algorithm, leading to greater visibility and more sales.
The software comes at a much higher price point than the other options on our list, which significantly brought down its score in our evaluation. But its fine-tuned, jewelry-specific features and overall ease of use helped bolster its final score, ultimately earning 3.5 out of 5.
Valigara Features
---
Craftybase: Best for Handmade Microbusinesses & Solopreneurs
Craftybase

Overall Score: 3.49
OUT OF 5
RATING CRITERIA

Pricing
4.00
OUT OF
5
Features
3.38
OUT OF
5
Ease of Use
1.25
OUT OF
5
Expert Score
4.63
OUT OF
5
Pros
Unlimited orders, materials, and product entries on all plans
Consignment tracking and basic manufacturing features
Precise pricing guidance
Advanced expense tracking and reporting
Cons
Limited features on base plan
Very limited integrations with POS systems and business tools
Limited product info detail
Craftybase Pricing
Pro- $24/mo: 1 user account, 1 integrated sales channel
Studio- $37/mo: 2 user accounts, 3 integrated sales channels
Indie- $74/mo: 5 user accounts, 5 integrated sales channels
Craftybase is an ERP solution designed to track manufacturing and inventory for small in-house manufacturing teams—making it an excellent tool for small-scale, handmade jewelry businesses.
The software seamlessly integrates with your online storefronts to track inventory and orders in real time. A suite of basic manufacturing features enables you to organize items by materials, components, and finished products, as well as create "recipes" for your assemblies. It uses your materials and labor costs to offer straightforward pricing guidance and tallies your COGS (cost of goods sold) with GAAP-compliant calculations throughout the year.
Craftybase lacks many of the functions that growing businesses may need (like POS connectivity, accounting integrations, and purchase ordering)—which cost it points in the ease of use section of our evaluation. Plus, even its highest-tier plan can only accommodate small teams. But the software delivers comprehensive inventory features on a user-friendly platform at highly affordable prices, helping it achieve a final score of 3.49 out of 5.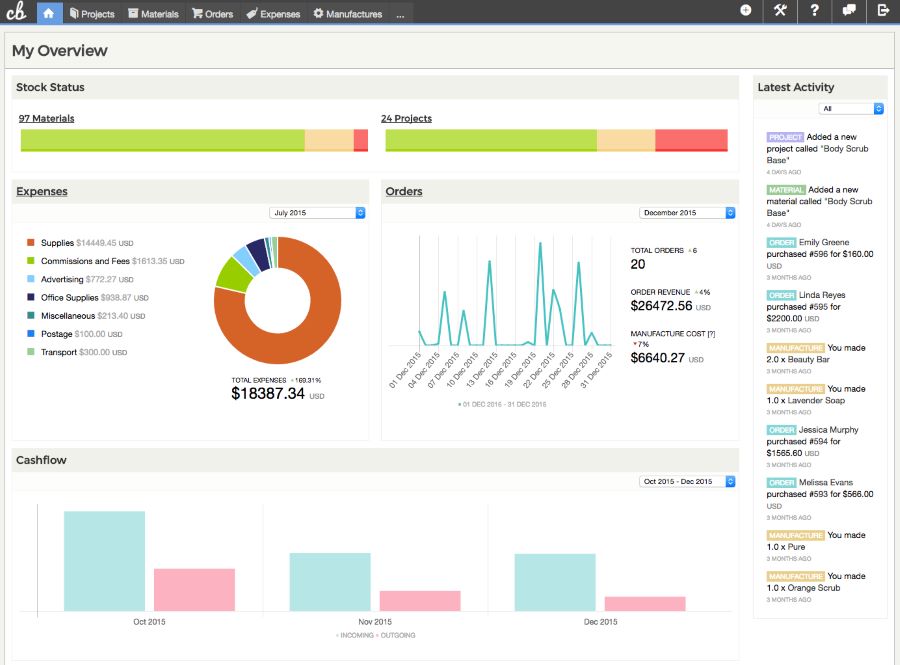 Craftybase can generate advanced inventory, expense, and sales reports.
(Source: Craftybase)
---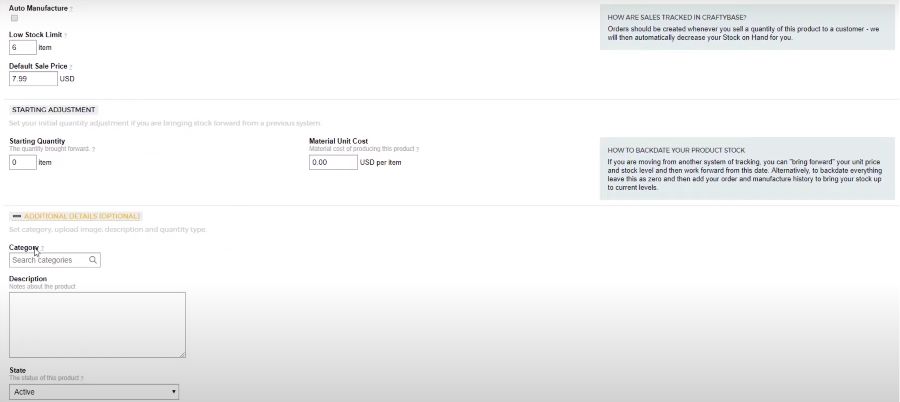 When adding or editing a product, Craftybase can record basic info like price, costs, category and a description—but it doesn't enable granular product detail or have fields for jewelry specs. (Source: Craftybase)
---
Craftybase Features
---
How We Evaluated Jewelry Store Inventory Management Software
We evaluated dozens of inventory solutions, focusing on inventory-fist platforms as well as software that was purpose-built for the jewelry industry.
We looked for inventory management functions with the capacity to store important item details (like metal type, stone type, diamond specs, ctw, and ring size) as well as location tools to track and organize small stones and findings. We also prioritized economical pricing and factors that contribute to overall ease of use, as well as the manufacturing features that makers need to stay on top of production.
Since jewelry inventory software isn't a one-size-fits-all solution, it's difficult to measure tools for different use cases against the same benchmarks. Because of this, even the lower-scoring providers on our list are excellent software options for the business types we specify.
Click through the tabs below for our full evaluation criteria:
20% of Overall Score
We assessed the price of each software from the perspective of a budgeted small business, awarding points based on relative affordability. We also considered the number of user accounts available on each paid plan, the max number of inventory items, and availability of a free plan or free trial.
40% of Overall Score
We looked at 13 core features in this section, including inventory tracking, purchase ordering, multichannel management, and reporting. Providers were given points for having high-performing, user-friendly features compatible with jewelry inventory and jewelry store functions. We also awarded points for hard-to-find features that facilitate common jewelry store functions, such as gold buying, consignment tracking, appraisals, pawn loans, work orders, and quote creation.
15% of Overall Score
In this category, each software solution was graded on its customer service hours and accessibility as well as the number of pre-built integrations available. We also considered the user-friendliness of their interfaces and how built-out their online knowledge bases are.
25% of Overall Score
This score considered our ecommerce experts' final assessments of value, ease of use, and standout features, along with scores from online reviews left by real-world users. We also weighed the quantity of online reviews available, prioritizing solutions with a healthy amount of user experience to draw from.
*Percentages of overall score
Bottom Line
Using a jewelry inventory system is an effective way to save time, increase efficiency, and prevent costly issues like shrinkage and stockouts. Inventory solutions are available as standalone software or tools that come incorporated in your store's POS.
The best jewelry inventory software depends on your unique business needs—such as your inventory type, business model, manufacturing process, and sales channels. For small ecommerce jewelry businesses, we recommend Zoho Inventory.