14 Tips to Create Retail Window Displays that Drive Foot Traffic (With Examples)
Have you ever been walking through a mall or down the street and seen a poster in a shop window promising fresh-baked croissants, showcasing their limited-edition dresses or promoting a special painting class that evening? 
If you have, you aren't alone. It's why retailers use window displays to capture customers' attention. 
Any brick-and-mortar store should have creative, engaging window displays to increase their foot traffic and bring people in. In this post, we're going to look at exactly how you can create window displays that your customers can't resist. 
Grow your retail business with Lightspeed POSt
This is your content
* Source: Lightspeed's Year in Review
14 ideas for more effective retail window displays 
If your brick-and-mortar store has front-facing windows, it's crucial you use that prime real estate to display merchandise. But how do you create an effective window display that grabs people's attention and makes them want to come into your store?
Here are 14 tips to help you as you conceptualize and create your retail store's next window display.
Know your target audience

Have a clear theme

Create a focal point

Consider your store location 

Keep it simple

Tell your brand's story

Consider lighting

Stay balanced

Show off your product range

 Add text

Refresh your window displays regularly

Be on the lookout for inspiration

Use analytics to inform your merchandising decisions

Make sure your displays look good on camera
1. Know your target audience 
Every business has its own target audiences (and should have defined buyer personas). Knowing how to appeal to your business's target consumer is key to creating effective window displays. 
This means understanding what they want and what's important to them, and crafting window displays that support those motivations. 
For example, each summer H&M knows that its primary target audience is more than likely to also attend popular music festivals like Coachella, which are known for their unique fashion style. 
What did H&M do with this info? They created a window display that aligned with their target market's interests and showcased outfits that were music festival appropriate.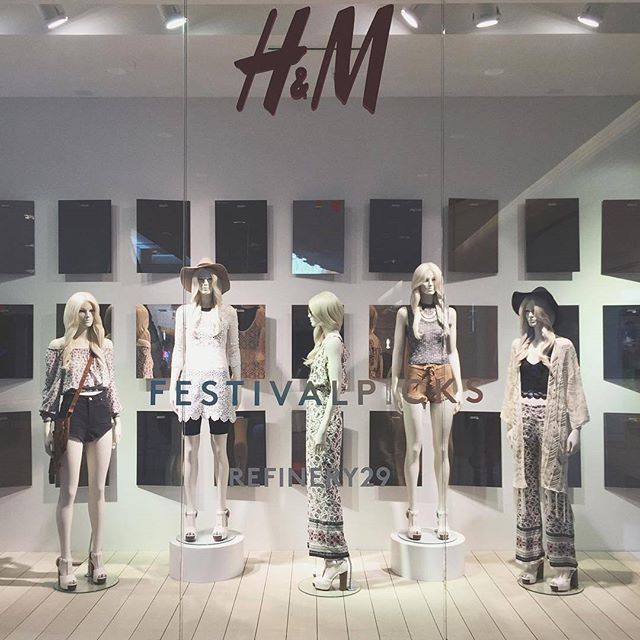 2. Have a clear theme 
A well-strategized and intentional theme will almost always work to your advantage. It ties your window displays together and draws user attention quicker. 
When conceptualizing a theme, try sketching out some ideas with a pen and paper. It's important to have a clear vision for your window display before you start building anything. 
For instance, Holt Renfrew's Valentine's Day inspired window display features hearts, Cupid's arrow, roses and clothing that aligns with that theme.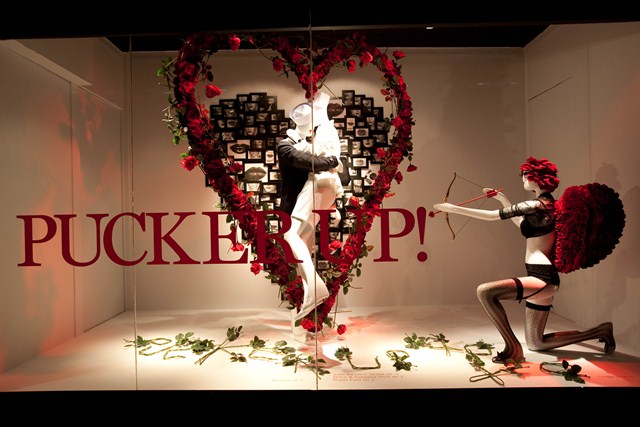 3. Create a focal point  
Especially when your retail store is located on a busy street with plenty of competitors, knowing how to create and leverage a focal point (something that commands and draws the attention of passers-by) in your window displays is a game-changer.
For example, Paul Smith, a brand known for adding playful colors to otherwise classically-inspired clothing, creates focal points that command attention. In the example below, the colorful zebra is the window display's focal point, while the classic blue suit is complimentary.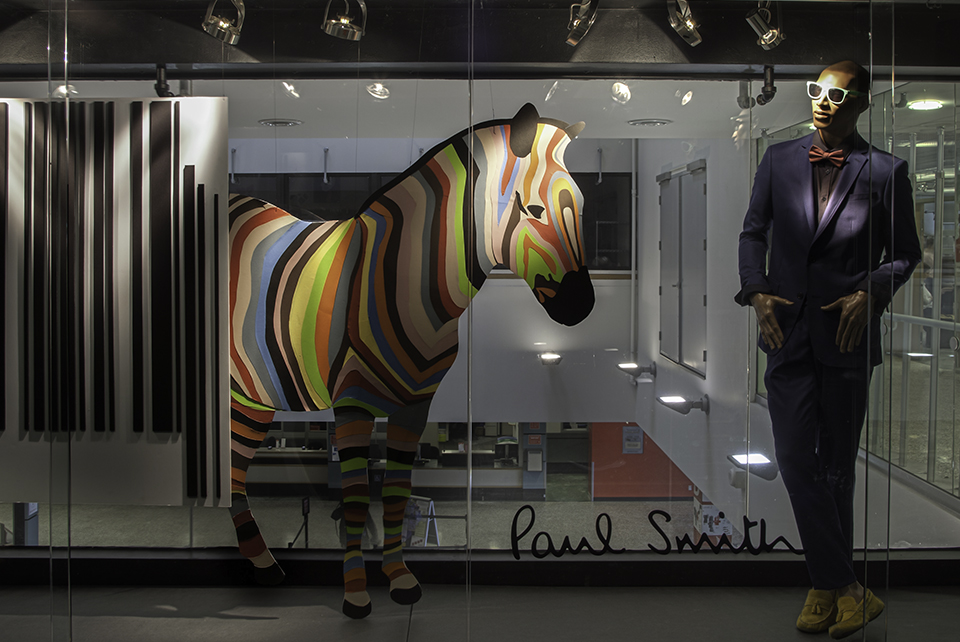 Place focal points at eye level 
For best results, place your display's focal points at eye level. Whether your focal point is an accessory, outfit (like the example from retailer Anthropologie below), signage or a unique structure, placing them at eye level increases the likelihood that the display captures attention and draws customers in.
Ask yourself, "what do I want people to see first?" and use that as the centerpiece of your window display.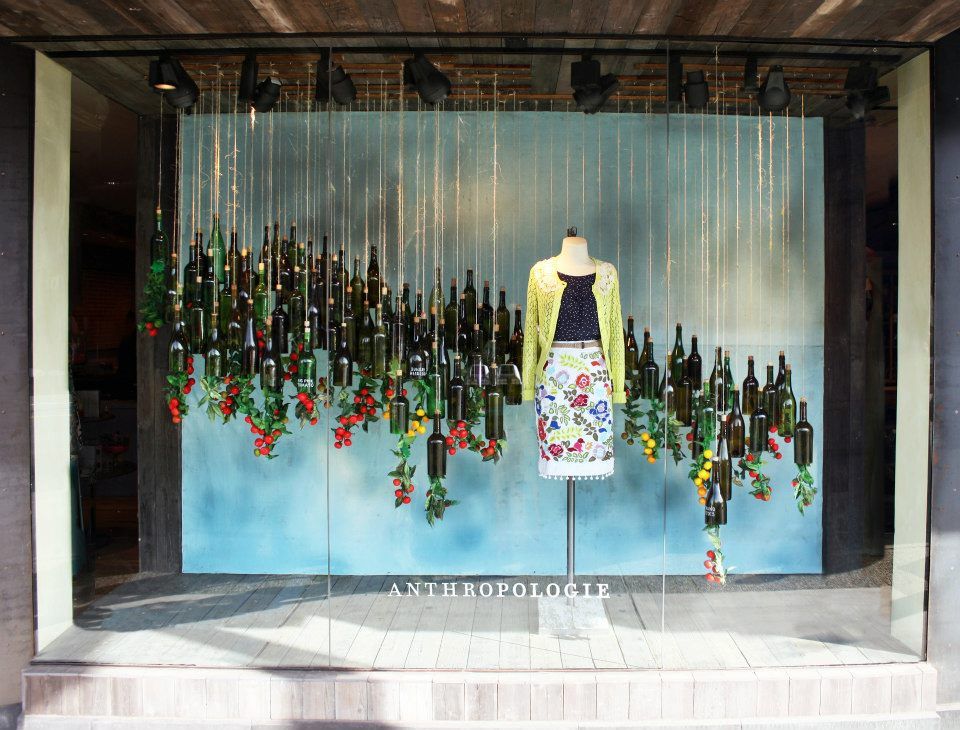 4. Consider your store location 
If you're a small retail store located on a street with a ton of foot traffic and near a ton of other shops (like New York's Nolita district), the way you approach your window displays will be different than if you're located in an area that's less accessible by foot. 
When you've got customers walking in front of your store regularly, you can get away with using smaller products and signage with details that are intended to be appreciated up close.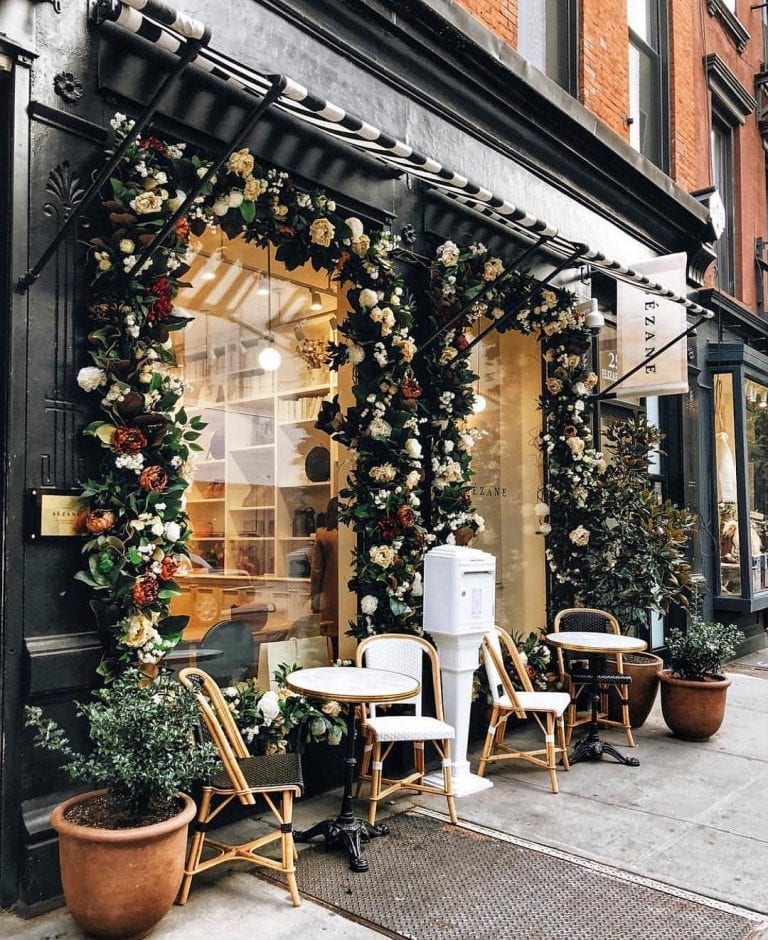 If, however, your store's located next to a busy highway, opting for a simpler window display that uses contrasting colors and features larger products will make it easier for people to register what they see as they drive by. 
5. Keep it simple and avoid clutter 
A common mistake that some retail stores make with their window displays is that they try to showcase too many things at once.  Without a focal point, a window display lacks purpose and is less effective at capturing customers' attention. 
Remember: An effective window display doesn't mean trying to showcase everything you sell; it means showcasing products that you think will grab people's attention, compel them to come into your shop and see what else you sell.  
Think of your window display as more of a teaser than a full product catalog. Great ones use simple but interesting visual elements to draw users in. 
6. Tell your brand's story 
Unique, visually-engaging storefront displays have a much better chance of standing out and being memorable. And if customers aren't able to come in now, you want them to remember your store and plan to come back another time.
Get creative with your display and think about how you can tell a story with it. For example, Sezane, a French brand, aims to "offer women the finest quality pieces with a Parisian touch." Their store's displays align with this story by featuring things one would typically see walking the streets of Paris: Outdoor seating that pays homage to French cafes, plenty of plants and sidewalk signage.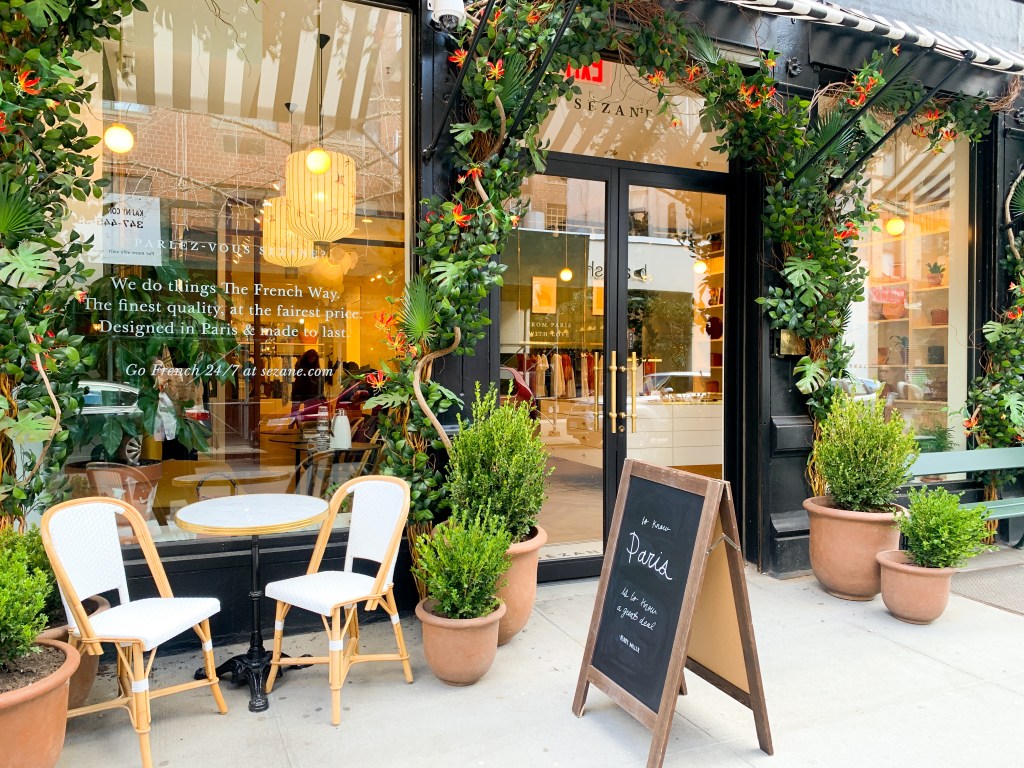 Sezane uses their window displays and visual merchandising to tell their brand story. 
7. Consider lighting 
A well-lit window display is everything. If people can't clearly see your products or your store's interior, you're missing out on an opportunity to draw them in. 
If your retail space is blessed with great natural lighting, that's amazing. But if it isn't, consider opting for softer lighting that helps people see inside without feeling blinded, like what Cuyana did.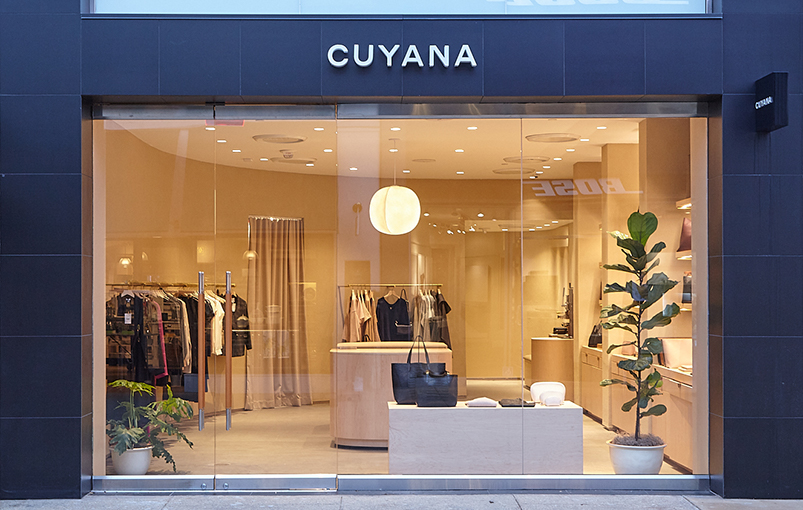 8. Stay balanced 
You want to consider the physical design of your retail store window display to ensure that it looks balanced and aesthetically interesting. A balanced look will keep the customer's focus where you want it instead of having it jump around everywhere.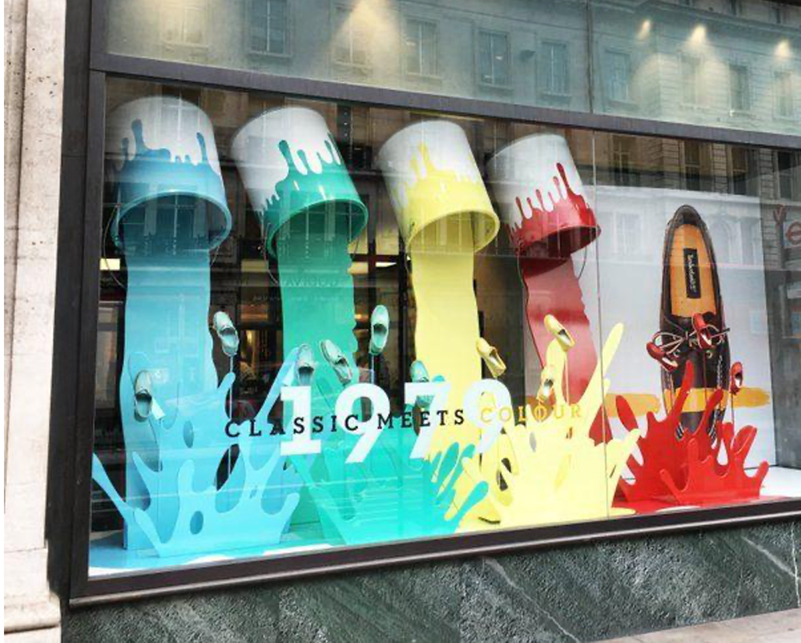 This retail window display is bright, colorful, exciting and balanced. The paint buckets are at even heights, and it emphasizes the tagline ("Classic Meets Colour") both visually and artistically. Even though there are plenty of bright colors, this display has a balanced look that's high quality. 
Elevated, high-quality window displays will help your store look credible and high-quality, too, helping you to attract the kind of customers you want. 
9. Show off your product range
If you sell merchandise across different categories or departments, aim to showcase your range in your window displays. 
Take this example from the children's boutique Kolkid, which carries fashion, decor, and toys. For back to school, they incorporated products from various categories to show off the breadth of their catalog.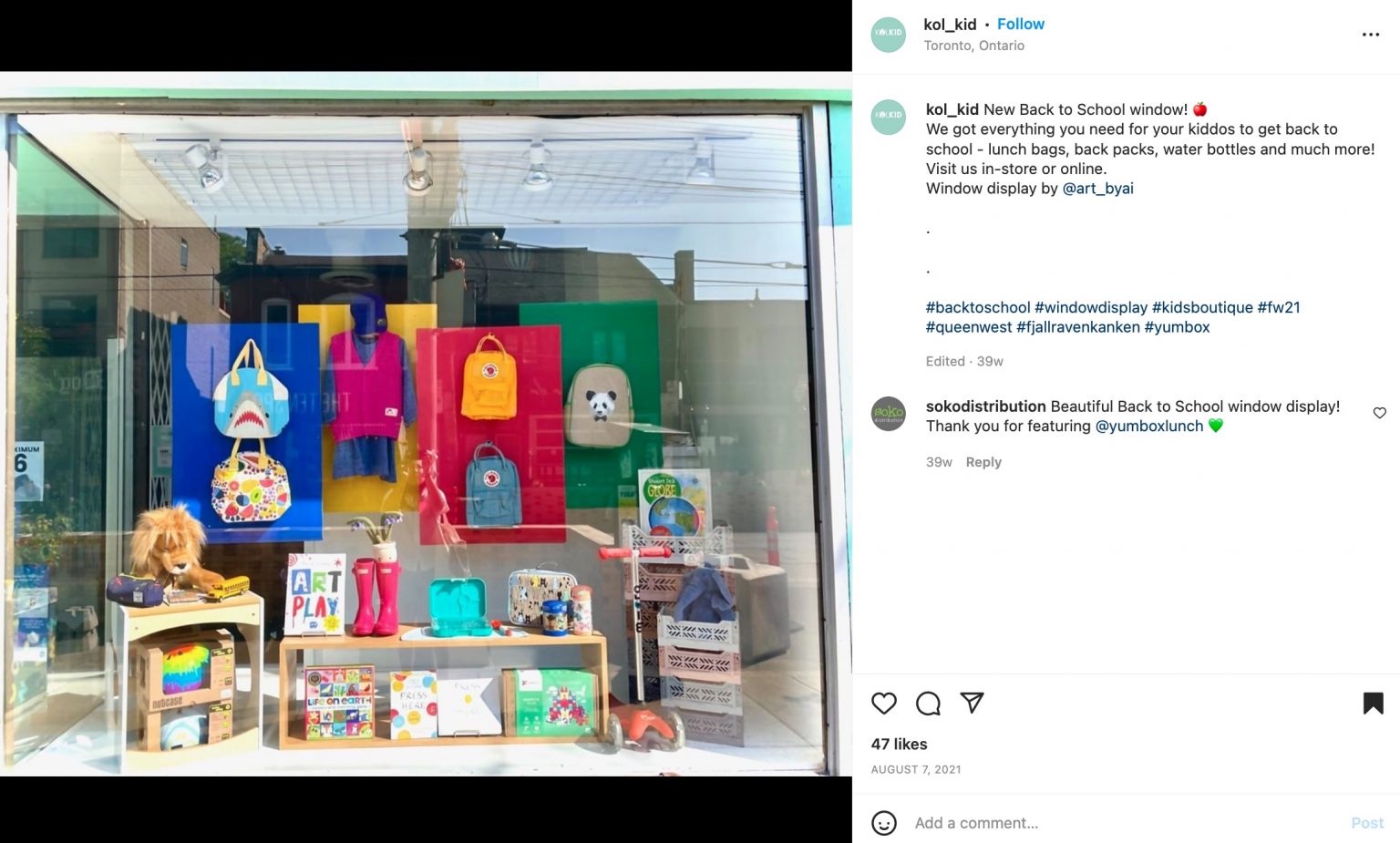 10. Add text 
Relevant and impactful text can help enhance your window displays. For instance, if you're running a sale, then having decals or signage in your display can help draw attention to your promotions. 
You can also add text to incorporate wit and humor into your displays. Have a look at this window display from Uvae Fromagerie & Tasting Room, which has the words weather, frightful, wine delightful, on its winter window display. This is a nice play on the lyrics of the song Let It Snow! and it's also highly relevant to the holiday season.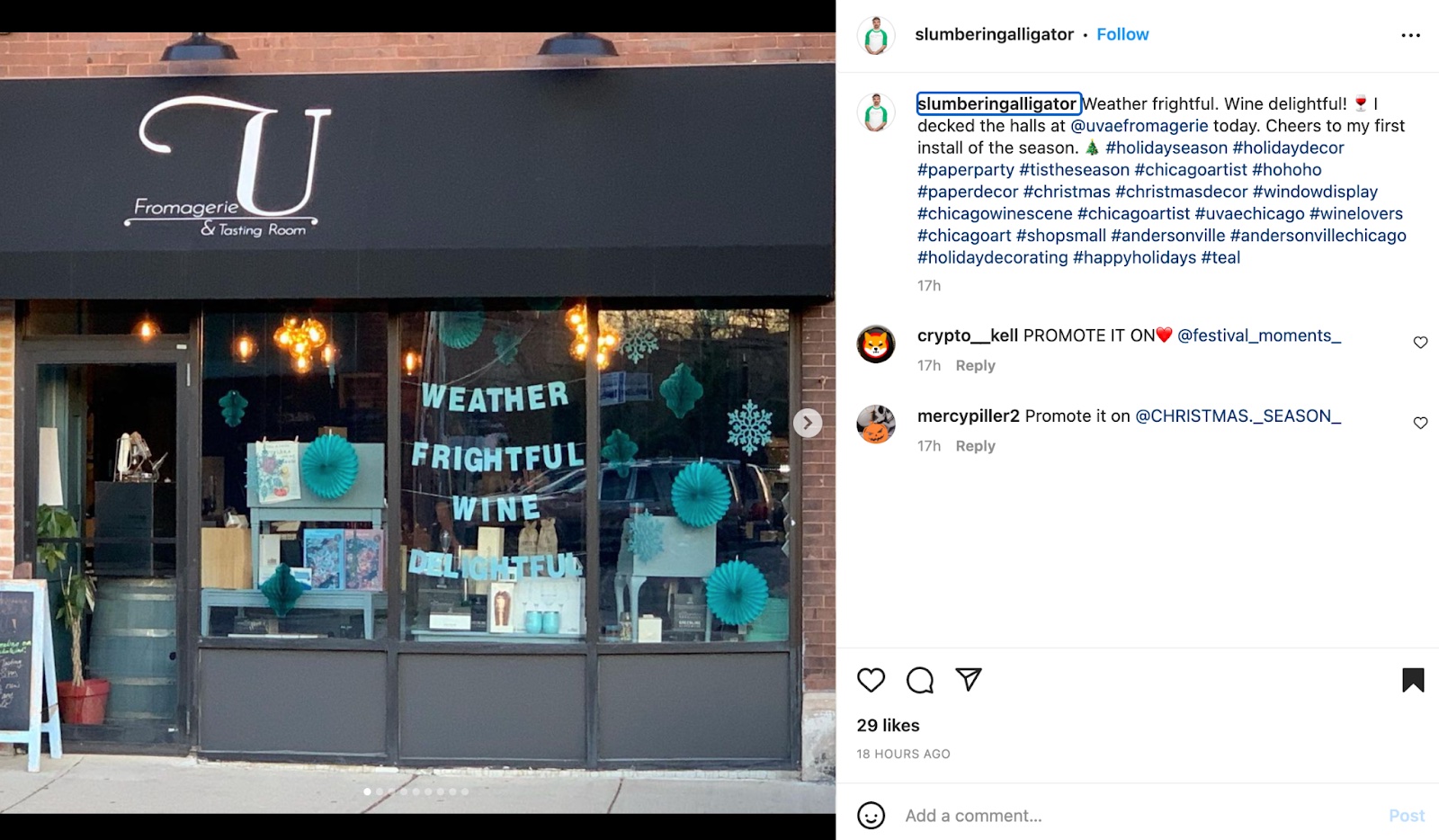 11. Refresh your window displays regularly 
It can be difficult to part ways with a retail window display that you absolutely love and worked hard to create, but it's important to refresh your window displays regularly.
Updating your window displays allows you to continually keep users engaged while promoting seasonally-appropriate products that you'd like to feature.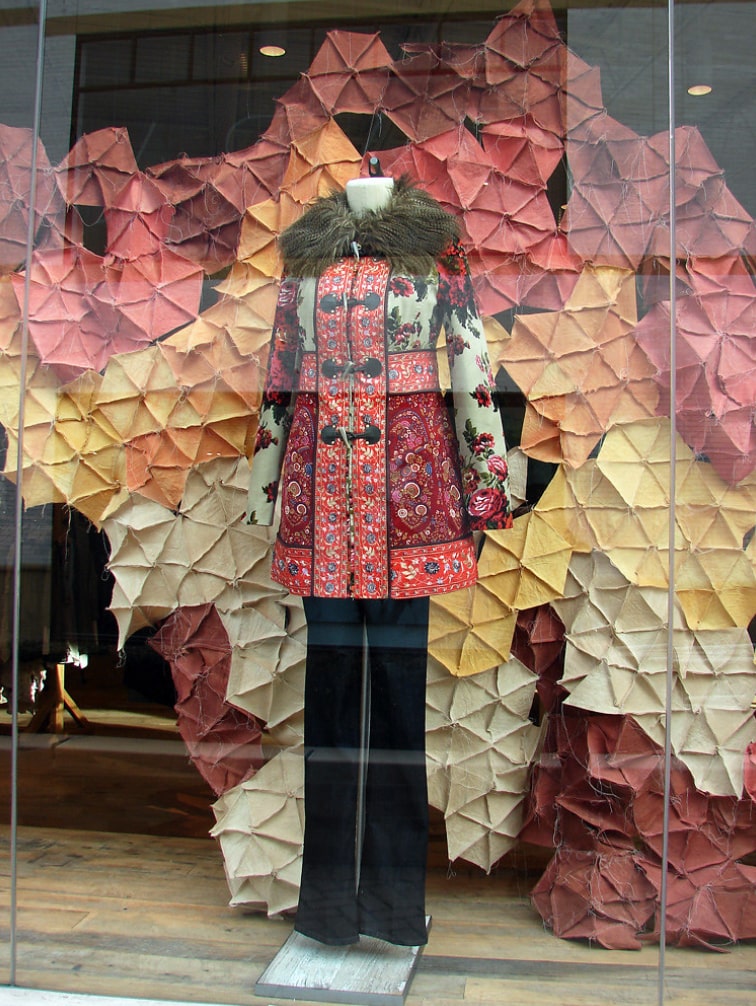 Anthropologie regularly updates the window displays in their retail stores that focus on the latest seasonal trends. This can bring in customers who see the clothes that are in-style right now, increasing the likelihood of both foot traffic and impulse purchases.
The more relevant your marketing is, the better your chances of success, and regularly refreshing your displays will help you keep them relevant and up to date.  
12. Be on the lookout for inspiration 
If you're struggling to come up with a new design, you can turn to Instagram and Pinterest for retail window display ideas. Both are full of vibrant, recent examples of exciting window displays and they're often taken by users who noticed them and felt compelled to share. 
You can take a stroll around a local strip mall to get ideas as well and pay attention to what you notice while driving around town. This is useful to see what local businesses are designing while searching online gives you the advantage of seeing what's trendy in your industry. 
Using a combination of both online and in-person research will give you the best of both worlds.
13. Use analytics to inform your decisions 
Creativity and analytics go hand-in-hand when you're trying to determine which products to promote in your window display. 
You can use your retail POS sales reports to see which products are your best-sellers, which sell out the fastest and are likely to be in high demand. You can also see which items are commonly bought together, which can give you ideas as to which products you can feature next to one another. 
14. Make sure your displays look good on camera 
In an age where social media sharing is extremely common, it doesn't hurt to ensure your displays look just as good on camera as they do in person. 
To that end, take a photo of your window displays to see what the camera captures, then adjust when needed. 
Create captivating window displays: final thoughts 
Creating captivating window displays for retail stores can be a wildly effective tool when it comes to increasing foot traffic and hopefully resulting in more sales. They allow you to create a branded, exciting customer experience before they even come into the store.
As you're working on your next display, consider gathering opinions from your entire team, especially those who have any artistic talent, marketing experience, or who work with your customers directly. They can have great insights about what your audience may want to see, and having more ideas is always a plus. You can use the Homebase and Lightspeed integration to message members of your team for suggestions or feedback, even if they're working remotely.
Ready to leverage analytics and reporting to make your best window displays yet? Learn more about how our Lightspeed Retail POS can help your business increase foot traffic and sales in no time!